This is a direct reproduction of the original content of ALL HANDS magazine.
©All Hands Magazine, Inc. All rights reserved. Reproduction by permission only.
Navigate through the "pages" by clicking on the page numbers, next or back links at the bottom of your screen or by clicking the links in the Table of Contents.
Sailing in the Midget Fleet (cont'd)
NO SPECIAL protocol is followed on board. For instance, whoever happens to be the best cook has the job. As often as not, the cook turns out to be the skipper.
Within 30 hours after Swifts arrived in Vietnam, they were in a fight. They engaged the Viet Cong on Phu Quoc Island in the Gulf of Thailand. The Swifts pumped mortar fire into three separate Viet Cong concentrations which were threatening a Vietnamese Army post. Their firepower was too much for the enemy; he quit.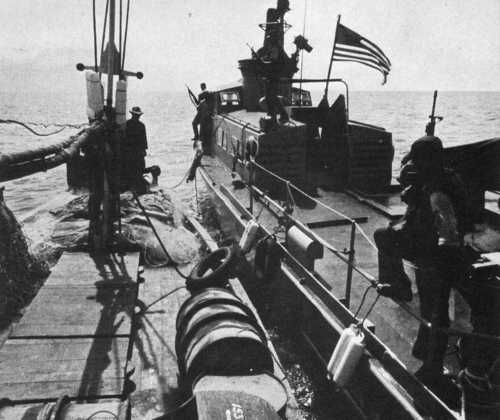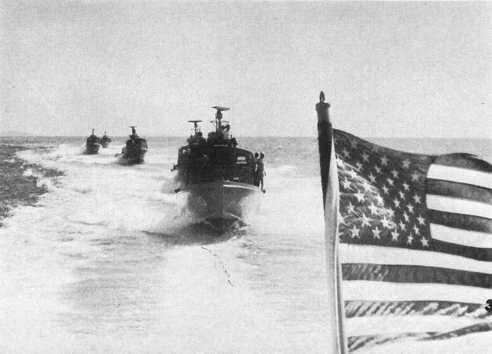 Most of the junks searched turned out to be nothing more than fishing boats. Others carried supplies, arms and men for the Viet Cong; still others carried draft dodgers and deserters.
The Swift boats get very little rest now, and even less is in store for them. Navy plans call for three alternating crews to keep Swifts now operating in Vietnam on patrol as long as possible.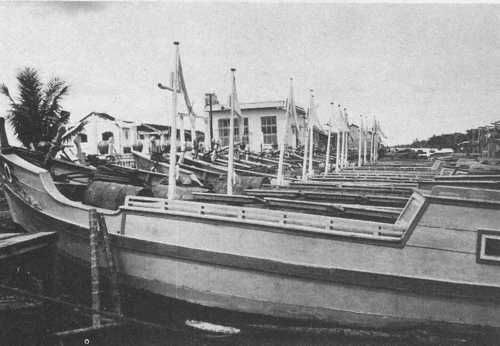 The little boats are only 31 feet long and 10 and a half feet wide at the beam. They draw about 12 to 18 inches when dead in the water but when they're on the move, they can get along on as little as nine.
Power comes from two 220-hp engines and the PBRs are propelled by two water-jet units which obviate the necessity of propellers and rudders. Their top speed, fully loaded, is about 25 knots.
Page 2