This is a direct reproduction of the original content of ALL HANDS magazine.
©All Hands Magazine, Inc. All rights reserved. Reproduction by permission only.
Navigate through the "pages" by clicking on the page numbers, next or back links at the bottom of your screen or by clicking the links in the Table of Contents.
Going Up
IT'S ALL in a day's work, the work of MCB Eleven's steelworkers on site at Da Nang, Vietnam. This series of photos shows the Seabee teamwork exercised in the erecting of heavy steel building frames for a warehouse.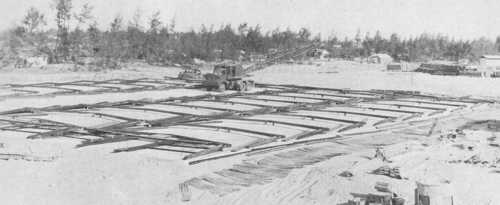 At 1:30 in the afternoon approximately 70 per cent of the frames have been put in place and roof purlins have been placed in four
bays.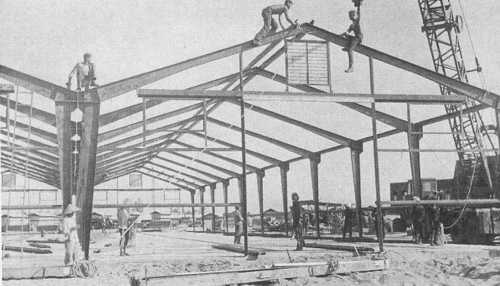 Last frame is bolted into place at about 4:55.

This is a view of the day's work. All 44 steel frames have been erected; 50 per cent of the sidewall girts, 40 per cent of the roof purlins and all 80 eave struts are in place.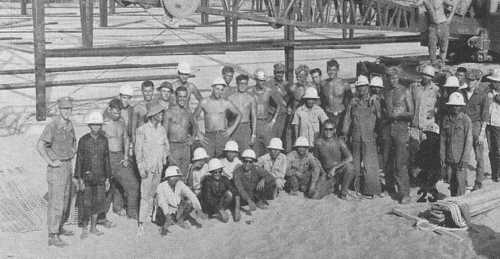 This is the building team after the day's work. Crew consisted of 16 Navy steelworkers, 18 Vietnamese workers and a crane operator.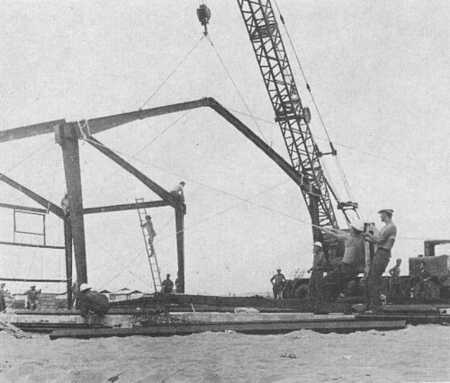 Seabee teamwork goes into play in the tricky and delicate operation of setting an assembled frame into place. Here, the third frame is being placed after about 30 minutes on the job.
Page 22