This is a direct reproduction of the original content of ALL HANDS magazine.
©All Hands Magazine, Inc. All rights reserved. Reproduction by permission only.
Navigate through the "pages" by clicking on the page numbers, next or back links at the bottom of your screen or by clicking the links in the Table of Contents.
View from the Front: Vietnam (cont'd)
By the Deep, Fire
Navymen manning hydrographic soundboats are normally more concerned with measuring the depth of shallow offshore waters than firing a machine gun at an enemy dug in on the beach. But a soundboat crew from USS Maury (AGS 16) proved recently that they are at home in either instance.
Soundboat 7 was running sounding lines near Chu Lai, when she was taken under fire by automatic weapons from the beach, about 150 yards away.
Crewmembers on the soundboat were quick to return the fire with small arms. The coxswain swung the shallow-draft boat around to withdraw from the beach just as a second burst cut across the bow at deckhouse level. Several bullets struck the craft, one of which passed through a window and just missed a fathometer operator. Soundboat 7's crew silenced the enemy with fire from her 50-caliber machine gun.
The officer in charge of the soundboat credited his crew's quick reaction in manning their stations and returning fire for holding damage to a minimum and averting casualties.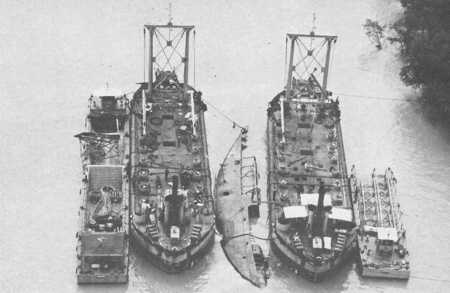 MAKING ROOM - Harbor Clearance Team raises river steamer sunk in 1945.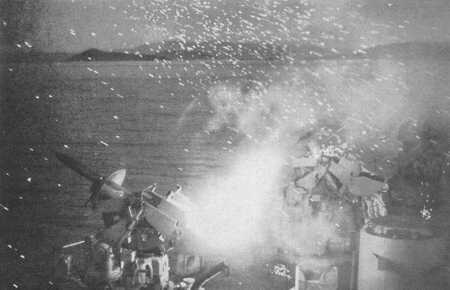 Above and Below: NIGHT AND DAY - USS White River (LSMR 536), with firepower of four destroyers, fires in support of troops ashore.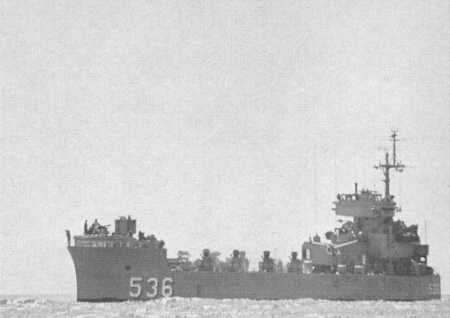 Page 26