This is a direct reproduction of the original content of ALL HANDS magazine.
©All Hands Magazine, Inc. All rights reserved. Reproduction by permission only.
Navigate through the "pages" by clicking on the page numbers, next or back links at the bottom of your screen or by clicking the links in the Table of Contents.

Defense Ribbon Is Authorized
SIR:Recently several men from the west coast have reported to our command wearing new National Defense Service Ribbons. They say the award has been authorized, but can't quote any specific directives.
Is the ribbon regulation? If so, what is the directive which authorizes it? - P. W. 0., YN2, USN.
It certainly is. The National Defense Service Ribbon was authorized by SecNav Notice 1650 of 5 May 1966.

As you probably know, the award was previously authorized for men who served honorably between 26 Jun 1950 and 28 Jul 1954. Last January. Executive Order No. 11265, amending Executive Order No. 10448 further announced eligibility for those who serve honorably after 31 Dec 1960 and a terminal date to be announced.

There are several exceptions. Generally speaking, eligibility may not be earned by very short periods of active servi . ce. Guard and Reserve forces on short tours of active duty to fulfill TRAINing under an inactive duty TRAINing program are not authorized to wear the medal as a result of such duty. The same holds true for people on temporary active duty to serve on boards, courts, commissions and such, or those on active duty for the sole purpose of undergoing a physical examination.

Navymen who are eligible may buy the ribbon and wear it-or may wear a bronze star in lieu of the second award, when appropriate.

The National Defense Service Medal, however, is not yet available for distribution. When an adequate supply is procured, information will be published regarding method of issue.-ED.
Advancement as Reservist
SIR: I am due to be released from active duty in March 1967, at which time 1 intend to enter the Naval Reserve. This August 1 I took the examination for second class.
If 1 am authorized for advancement, and accept, 1 understand it is necessary to obligate for one year's service beyond the date of promotion. If I do not choose to do so, could I accept the advancement as a Reservist? - D. R. B., YN3, USN.
Yes. But you could not assume the higher rate until you were separated if your advancement came before your EAOS.

For men on active duty, advancement is authorized only when there is at least one year's obligated service beyond the effective date of advancement. If the date is before your separation, you will remain a F03 until after being released from active duty, then apply for the higher pay grade, as a Reservist, under the provisions of BuPers Inst. 1430.1E.

If the effective date of advancement is later than your EAOS, you apply for advancement under the terms of the same directive and assume the new pay grade on the date authorized by Bupers. By then, of course, you are a Reservist. - ED.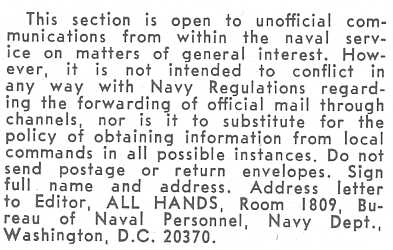 Origin of Quartermaster Rating
SIR: I'm seeking a definition for the title Quartermaster as it is used in the Navy.
As you know, this title in the Army more or less implies the true meaning of the word - one in charge of quarters, berthing, messing, supply, and so forth. In the Navy, however, it refers to, those persons concerned with navigation and shiphandling arts.
Undoubtedly the naval term stems from the days of wooden ships and iron men when, perhaps, the navigation officer wore several hats. What's your definition of quartermaster?-J. R., YNC, USNR.
In the early days, when ships were considered to be merely platforms from which soldiers fought, seagoing quartermasters actually were soldiers assigned as "masters" of the "quarters" on ships carrying troops. These men performed the same quartermaster duties aboard ship as they did with troops ashore.

Later, it became the custom to have these masters of the quarters remain on board after the troops were disembarked. Since there were no soldiers requiring their services, the quartermasters were assigned other shipboard duties. Eventually, they became part of the ship's crew.

By Farragut's time the quartermaster was well on his way toward becoming what he is today: the secretary, assistant, and general right-hand man of the watch officer and the navigator in everything pertaining to navigation.

These comments on the evolution of the quartermaster are based upon the Navy TRAINing Course for Quartermaster 3 & 2 (NavPers 10149-B, page 1). Perhaps some ALL HANDS readers will inform us of other sources. -ED.
Page 29