This is a direct reproduction of the original content of ALL HANDS magazine.
©All Hands Magazine, Inc. All rights reserved. Reproduction by permission only.
Navigate through the "pages" by clicking on the page numbers, next or back links at the bottom of your screen or by clicking the links in the Table of Contents.
Here They Are: All-Navy Dragon Boat Champs
Dixie (AD 14) rowed to victory in the annual Dragon Boat Festival races on the River of Love in Kaohsiung, Taiwan. The article went on to say it was the second time a Navy crew had entered the race. The first was a crew from Headquarters Support Activity Detachment Five.
Caliente (AO 53) entered a team and won the race in June 1958.
Caliente was to be in port for three weeks as station ship, he thought it would be a good idea for the U. S. Navy to be represented. The word from local officials was that no Americans had ever competed in the race before.
At last, the captain dropped a hint that special liberty might be arranged for volunteers. Also, if restricted men would join the team (and the team won), it was very probable that all restrictions would be canceled. We had a dragon team!
After only two practice sessions, the big day arrived. With the captain's promise of liberty ringing in their ears, they were off. Our crew was an unusually husky lot so nobody was much surprised when we came in about four boat lengths ahead of our closest competitor.
The winning crew went on liberty and the ship got a beautiful flag from the race officials which, for all I know, is still hanging in the ship's mess deck.
COMSERVPAC even went so far as to make up a special rating badge for "Dragon Boat Crewmen."
Please don't misunderstand me. I heartily congratulate HSA Detachment Five and Dixie on their respective victories. However, I want them and the world to know that old Caliente was there ahead of them.-B. A. Buscher, LCDR, SC, USN.
Thanks for your very interesting letter, sir. We think you can now consider the record set straight. We might say, at this point, that Dixie sent us an account of this year's events at

Kaohsiung which did NOT include the claim that she was the second U. S. Navy victor in the history of Dragon Boat racing.

For those who are not up on dragons, here's some more information to round out the story.

In September 1965, ALL HANDS carried the news that Detachment Five of the Headquarters Support activity at Kaohsiung had won the Dragon Boat Race. The team really didn't expect it to turn out that way. They had only four short practices during which they learned that a dragon is not easily moved.

Although Detachment Five's practice performances were unimpressive and one of their competitors was a City Hall team (everbody knows you can't beat City Hall ), the Navy team played the role of Dragon Boat Racers to the hilt. For the occasion, they donned blue coolie hats decorated with gold spangles and stenciled Seadragon (in Chinese characters) across the back of their shirts.

Detachment apparently as surprised as anybody when they not only finished the course at a race pace for the first time, but also won in their category.

The Dixie team in this year's race also had a mere four days in which to condition and TRAIN. Lieutenant (jg) Laws acted as coach, Lieutenant F. P. Dillon as coxswain and H. J. Anderson, MMFN, as cadence counter. The Dixie men who paddled their own canoe were R. Williams, BT2; B. Moore, MM2; C. F. Moseley, MRFN; R. B. Ginsburg, DM3; D. R. Perry, SN; B. L. Seaton, TM2; C. L. Jones, FN; J. J. Milkovich, SFP3; P. H. Friedrich, GMT3; R. N. Carlson, YN1; C. E. Wetzel, BT3; M. M. Leal, SN; C. E. Pollock, SFP3; M. B. McCool, EN3; W. D. McGarity, TMSN; F. N. McKee, IC3; A. C. Franklin, FN; 1. J. Decamp, SK2; W. E. Hartman, TMSN; A. J. Ferreira, DC3; J. W. Faunce, GMT3; J. E. Greenburg, MA2; and H. J. Anderson, MMFN.

The Dixie team, taking their cue from last year's winners, also dressed for the occasion. They wore tasseled beanies tied firmly to their heads and red rowing shirts with Dixie Dragons boldly lettered (in English) across the back. The accompanying photos will give you an idea of what a dragon boat race is like. Obviously, a good time was had by all.-ED.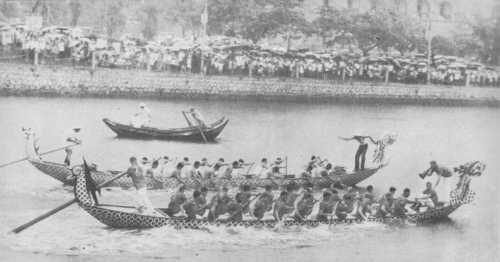 DRAGGING DRAGONS - Twenty-five crewmembers of USS Dixie dig in with paddles during Dragon Boat races.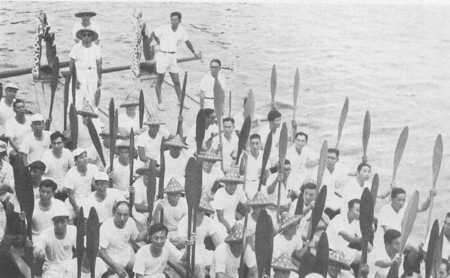 PAST PERFORMANCE - Navymen of Detachment Five, HQ, Support Activity, Kaohsiung, await awards in 1965.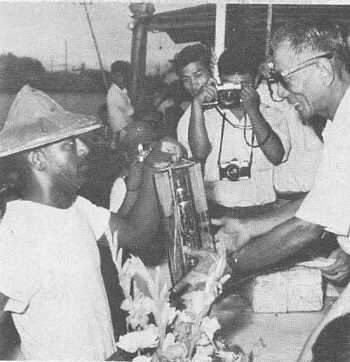 trOPHY TIME - Member of Detachment Five rowing team accepts winners' trophy from Mayor of Kaohsiung.
Page 32