This is a direct reproduction of the original content of ALL HANDS magazine.
©All Hands Magazine, Inc. All rights reserved. Reproduction by permission only.
Navigate through the "pages" by clicking on the page numbers, next or back links at the bottom of your screen or by clicking the links in the Table of Contents.
Golf and Gun Dominate Sport Round Up (cont'd)
Bang-Up Job by Hamilton
For five years, Army Sergeant First Class William B. Blankenship held something of a monopoly on the National Pistol Championship. And he was a very happy man. But not any more.
Now the monopoly belongs to Aviation Machinist's Mate 1st Class Donald R. Hamilton of Naval Air Reserve TRAINing Unit, Washington, D. C., who recently won his second consecutive title at Camp Perry, Ohio.
Hamilton began the meet with a score of 882-37X. He followed up with a second-day score of 866-27X in strong winds to lead the meet by four points.
On the third day, Blankenship and Sergeant First Class R. D. Thompson began a charge which almost overtook Hamilton. Almost. By noon, Hamilton led Blankenship by only seven points and Thompson by eight.
Hamilton held off the Army charge in the last event, scoring 293 of a possible 300 points to win the aggregate title with a score of 2629-114X. Blankenship and Thompson placed second and third, respectively.
During the shooting, Hamilton won his second straight Secretary of the Navy Award and became the first man to win the President's 100, a newlyinstituted event patterned after the event of the same name in rifle competition.
All of which makes Hamilton's trophy case begin to bulge. He now holds trophies as the 1965 and 1966 National Pistol Champion, 1965 AllNavy Champion, and 1966 Interservice Champion.
And be's a very happy man.
-Kelly Gilbert, J02, USN
Navy Rifle Team Scores
The U. S. Navy Rifle Team left the National Rifle Matches at Camp Perry, Ohio, this year with its fair share of hardware for the trophy cases, and two of the Navy's participants won national titles.
Donald Vaughn, Aviation Machinists Mate 1st Class, become coholder of the National Match record in Army Cup competition with a score of 100-19V out of a possible 100-20V. Vaughn bit the bull's-eye, but missed the V-ring on his fifth shot to tie the record set last year by Marine Corporal Daniel Sanchez.
Michael D. Nolta, Aerographer's Mate 2nd Class, outshot 2400 military and civilian riflemen to win the Marine Corps Cup. Firing from the 300-yard line at rapid fire, Nolta scored 100-12V to win the event.
Thomas N. treinen, Aviation Machinist's Mate 3rd Class, won the Pershing trophy as high individual scorer in the National trophy Rifle Team Match. treinen scored 250-30V out of a possible 250-50V for the title.
Nine Navy entrants also placed in the President's Hundred competition. Lieutenant (jg) Webster Wright shot a score of 147-14V to take top honors among the Navy competitors.
Another Navy shooter, Elaine Lehtinen, Personnelman 2nd Class, became the first Navy woman ever to place in the President's Hundred. It was her first national competition.
The Navy Rifle Team placed fourth in National Rifle Team standings at the Camp Perry matches with an aggregate score of 1180, a mere five points from the top.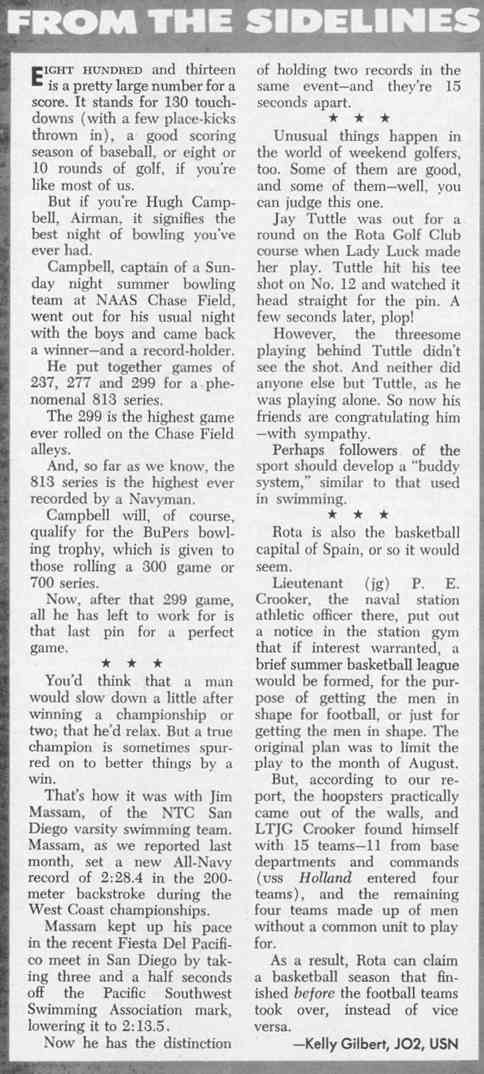 Page 37