This is a direct reproduction of the original content of ALL HANDS magazine.
&copyAll Hands Magazine, Inc. All rights reserved. Reproduction by permission only.
Navigate through the "pages" by clicking on the page numbers, next or back links at the bottom of your screen or by clicking the links in the Table of Contents.
Beachmasters
THERE'S MORE to an amphibious assault than a battalion of Marines. The beachmasters can tell you. So can the amphibious constructionmen and the assault craft handlers.

They are all part of the Naval Beach Groups-and in every major landing they are right behind the first two boat waves.
These Navymen handle the multitude of little-known tasks common to any amphibious landing-they drive the boats that carry troops and supplies, build roads and clear the beaches, direct traffic on the crowded beaches and stack material as it is brought ashore.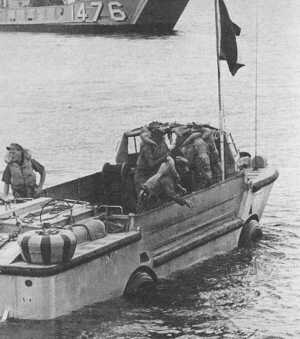 Beachmasters run telephone line from beach to command ship. Below: Floating fuel line is brought ashore.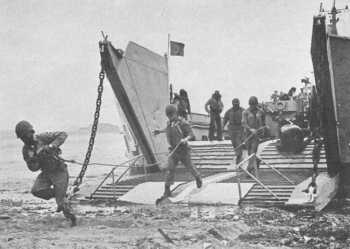 The outfit assigned this task with the Seventh Fleet amphibious forces is the San Diego-based Naval Beach Group One's Western Pacific Detachment.

While many of the detachment's 800 men are embarked on amphibious force ships and are ready to land with the Seventh Fleet's seaborne Marine battalion landing team, others already are ashore in Vietnam supporting troops who have recently landed.

One of the Naval Beach Group's bigger jobs in Vietnam was moving gear over a large pontoon causeway they maintained at Chu Lai while the airfield was being built last year.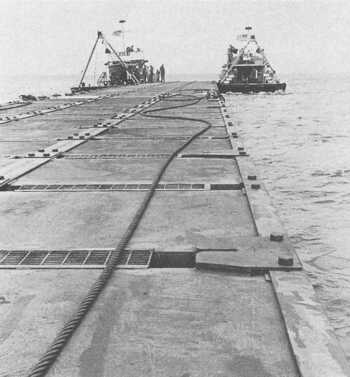 Tugs push pontoon causeway to beach. Below: Equipment operator clears landing site with bulldozer.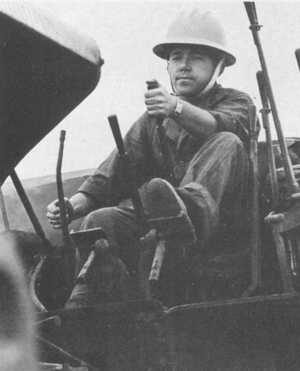 At the Navy's large supply activity in DaNang, the men provided stevedores and lighter crews and operated a floating fuel line until permanent personnel were sent in to relieve them.

Other men of the group's three combat-ready, selfsupporting components-a beachmaster unit, an amphibious construction battalion and an assault craft division-remain at their Yokosuka, Japan, headquarters. They TRAIN for such tasks as directing complex beach operations, installing pontoon causeways, laying floating lines, improving landing sites and salvaging disabled landing craft.

But they're always ready to ship out in support of Seventh Fleet amphibious landings.

-Story and Photos by James F. Falk, JOC, USN
Page 42