This is a direct reproduction of the original content of ALL HANDS magazine.
©All Hands Magazine, Inc. All rights reserved. Reproduction by permission only.
Navigate through the "pages" by clicking on the page numbers, next or back links at the bottom of your screen or by clicking the links in the Table of Contents.

Outside Employment
DOD personnel may not engage in any outside employment or other outside activity, with or without compensation, which:
Interferes with, or is not compatible with, the performance of their government duties;

Might bring discredit to the government or the DOD agency concerned; or

Is inconsistent with other regulations, such as acceptance of a fee, compensation, gift, payment of expense or any other thing of monetary value in circumstances in which that acceptance may result in, or create the appearance of, a conflict of interest.
No enlisted member of the armed forces on active duty may be ordered, or officially permitted to leave his post during prescribed duty hours, to engage in civilian pursuits or business, for emolument, hire or otherwise, if this action interferes with the customary or regular employment of local civilians in their art, trade or profession.
This does not Prevent members of the armed forces from engaging in outside employment during their off-duty hours if it is not otherwise prohibited.
An active duty officer of the Regular Navy or Marine Corps may not be employed by any person furnishing naval supplies or war materials to the United States and continue to receive his service pay.
DOD personnel are encouraged to engage in teaching, lecturing and writing. However, they may not, either for or without compensation, engage in such activities when they are dependent on information obtained as a result of their government positions, except when that information has been published or is available to the general public or will be made available upon request. An exception may be made when the agency head gives written authorization for the use of non-public information on the basis that the use is in the public interest.
These regulations do not preclude DOD personnel from participating in the activities of national or state political parties as approved by current directives, nor participating in the affairs or accepting an award for a meritorious public contribution or achievement given by a charitable, religious, professional, social, fraternal, nonprofit educational, nonprofit recreational, public service or civic organization.
DOD personnel may not participate, while on government-owned or leased property, or while on duty for the government, in any gambling activity including the. operation of a gambling device, in conducting a lottery or pool, in a game for money or property or in selling or purchasing a numbers slip. However, certain exceptions are made for games such as Bingo, when properly approved.
All government employees are expected to pay each just financial obligation in a proper and timely manner, especially one imposed by law such as federal state or local taxes.
In addition, besides conforming to the ethical standards of conduct required of government employees, it is each individual's responsibility to report incidents in which hey believe there has been a violation of a statute or policy. Such reports should be made to the immediate superior, and if the superior believes there has been a violation, be should report the matter for further action in accordance with existing procedures.
Another section of the policy dealing with standards of conduct requires certain individuals to file a statement of employment and financial interests.
These statements must be filed by:
Personnel paid at a level of the Federal Executive Salary Schedule;

Civil service employees in grade GS16 or above;

Civilian employees not covered by GS schedules who are in a position comparable to or higher than GS-16;

Officers in grade 0-7 or above;

Board members of Armed Services Boards of Contract Appeals; and

Civilians in Grades GS-13, -14 or - 15, and officers 0-5 and 06 whose basic duties and responsibilities require them to exercise judgment in making or recommending government action in regard to contracting or procurement; auditing; or other activities in which the decision or action has an economic impact on the interests of any nonfederal enterprise. (See section XV.A of SecNav Inst 5370.2D, enclosure one, for amplification of this section.)
Every activity must review its positions in the categories- of GS-13 through -15 and officers 0-5 and 0-6 and include in each billet or position description a statement as to whether the incumbent of the position must file a statement of employment and financial interest. This determination should be reviewed at least annually, either at the time performance, efficiency or effectiveness ratings are given, or incident to other currently prescribed annual reviews.
Full information on these regulations is contained in SecNav Inst 5370.2D, which should be referred to if there is any question on current policy.
Correspondence Courses Range from Intelligence To Antisubmarine Warfare
One revised and three new correspondence courses have been issued for use by enlisted men. Four new courses for officers have been issued, and one formerly in use has been discontinued.
The courses for enlisted personnel are:
Aviation Fire Control Technician I & C, NavPers 91635-2 (Confidential).

Aviation Antisubmarine Warfare Technician I & C, NavPers 91697 (Confidential).

Standard First Aid TRAINing Course, NavPers 91217-H; supersedes NavPers 91217-G.

Communications Yeoman 3, NavPers 91407.
The new officer correspondence courses are:
Security of Classified Information, NavPers 10975-B.

Navy Petroleum Supply, NavPers 10904-A.

Disbursing, Part II, NavPers 10424.
ASW Operations, NavPers 10406A has been discontinued.
The Defense Intelligence School is offering a correspondence course to all active and Reserve officers, and civilian employees of the Department of Defense in grades GS-7 and above who are working in intelligence and enlisted Navymen who have intelligence-related NECs.
The course covers: Principles of intelligence, international relations, communist world affairs, and unconventional warfare.
You may obtain further information and application forms from the Defense Intelligence School, Nonresident Course Division, U.S. Naval Station, Anacostia Annex, Washington, D.C. 20390.

More to Red Hill Than Meets the Eye
There's a man-made honeycomb set into the mountains of Hawaii which feeds a swarm of busy bees-the ships of the U. S. Pacific Fleet.
Known as Red Hill, this serene, brush-covered knoll is actually a giant underground fuel and oil storage facility, overlooking Pearl Harbor, that is capable of holding nearly six million barrels. This capacity is hold in 20 vaults, or tanks, erected vertically. They measure 250 feet high (as tall as a 25-story building) and 100 feet in diameter, thus the honeycomb effect.
The Pacific Fleet has been fed from Red Hill since World War II. Through three major pipe lines, the facility can pump 40,000 barrels of oil and jet fuel per hour to almost any point in the Pearl Harbor Navy complex.
Construction required skillful engineering.
First, a 4350-foot funnel was drilled from the foot of Red Hill through the center of the mountain's hogback. Shafts were then drilled from the top of the hill on either side of this main tunnel, through the imaginary center of the tanks, and then toward the center to connect with the passage.
A second tunnel was drilled into the hogback above and in line with the bottom one. It was a few feet below the tops of the proposed tanks, thereby allowing access into the hill for digging out the vaults.
Over a million and a half cubic yards of volcanic dirt and rock were dug from the hill. In turn, the vaults and tunnels were lined with 46 million pounds of steel, over a million square feet of wire mesh and over 400,000 cubic yards of concrete.
As a matter of further interest, some of the dirt taken from the mountain was used for highway and building construction. In fact, the six-story concrete Naval Supply Center building at Pearl Harbor was built with Red Hill rock.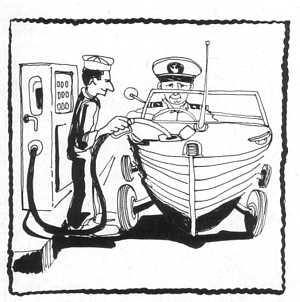 Page 55