This is a direct reproduction of the original content of ALL HANDS magazine.
©All Hands Magazine, Inc. All rights reserved. Reproduction by permission only.
Navigate through the "pages" by clicking on the page numbers, next or back links at the bottom of your screen or by clicking the links in the Table of Contents.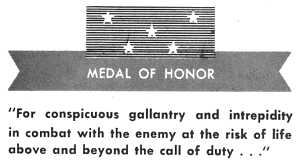 What does it take for a Navyman to earn the Medal of Honor?
The regulations say he must conspicuously distinguish himself in combat by gallantry and intrepidity at the risk of his life above and beyond the call of duty.
Since the Civil War, 730 Navymen have been singled from among the brave to receive the nation's highest award. Marvin G. Shields, CM3, USN, is the first Navyman to be so honored for service in Vietnam.
Most heroes seem very much like the boy next door-nice guys, not particularly unusual until, in time of crisis, they do the most extraordinary things.
Marvin Shields was like that. The statistics on his life are similar to those of thousands of other Navymen. He was born in Port Townsend Wash., on 30 Dee 1939 and went to school there. He joined the Navy in January 1962.
Shields was a Seabee attached to MCB 11 at Dong Xoai on 9 Jun 1965. It was near midnight when all hell broke loose. A mortar shell, or perhaps it was a rocket, soared over the camp and exploded in one of the buildings-and that was only a polite opener. Everyone grabbed his weapons and manned the defenses.
It was a heavy attack and every mother's son at Dong Xoai had to fight for his life. Shields was one of the many who were wounded early in the game, but that didn't slow down his fighting.
When ammunition ran low, it was Shields who made several trips to the ammo trailer to resupply himself and his buddies. The path to the trailer covered 150 feet of ground exposed to mortar fire. The trailer itself was ablaze from earlier bits.
When the Viet Cong came pouring into the camp, Shields and the other defenders fell back. An American officer with both legs broken was seen lying in an exposed position and Shields, with the help of a buddy, carried him through a hail of VC bullets to the relative safety of the district headquarters building.
The attack continued for hours with mortar and machine gun fire, grenades and flame throwers. Although Shields had already been severely wounded in the face, back and neck, be kept on firing and exposed himself to enemy bullets while lobbing grenades at the Viet Cong.
About the middle of the morning, a VC machine gun began spraying the headquarters building with lethal effect. When the lieutenant asked for a volunteer to go with him and knock out the machine gun, Shields, despite his wounds, volunteered.
The two men succeeded in their mission, probably saving many lives, but their work was not without penalty. Both were hit. Shields was hit badly.
Early in the afternoon, helicopters evacuated the wounded. Shields was among them but he died of his wounds later in the day.
In September, at the White House, President Johnson presented the nation's highest decoration to the young widow of Marvin Shields who, before he reached Dong Xoai, was much like the boy next door.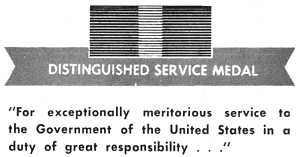 COUSINS, RALPH W., Rear Admiral, USN, as Commander Carrier Division Nine during combat operations in Southeast Asia from 9 Jul 1965 through 14 Jan 1966. In his role as Commander of Attack Carrier Task Group 77.3 and 77.5, RADM Cousins conducted a sustained series of air strikes against major military and logistic targets in North Vietnam. During a major portion of this period, he was charged with the responsibility for planning, coordination and execution of the combined strike efforts of three attack carrier groups assigned to Task Force 77's Yankee Team. Under his direction, carrier strike groups destroyed over 140 highway and railroad bridges, 300 trucks, 55 watercraft, and numerous barracks, supply dumps and logistic installations in North Vietnam. During the height of the SA-2 surface-to-air missile threat, RADM Cousins developed anti-SAM tactics and directed one of the first successful strikes against an enemy missile installation.

PENDLETON, JONATHAN R., Captain, USNR, as Commander of a Task Group engaged in special projects during the summer of 1965, for his contributions to the success of the operation.

MONROE, JACK P., Rear Admiral, USN, as Commander U.S. Naval Forces, Philippines/Commander in Chief, Pacific Representative, Philippines, from March 1963 to June 1966. RADM Monroe effectively promoted inter-country relations and established and nurtured effective channels for liaison, thereby furthering U.S. prestige and goodwill with foreign nations. In addition, he successfully coordinated logistic support to forces engaged in combat in Southeast Asia and increased communications capabilities by formulating and expediting communications improvements in shore stations under his command. As a result, these installations were advanced well ahead of original plans, which enabled timely direction of forces in sensitive politico-military operations.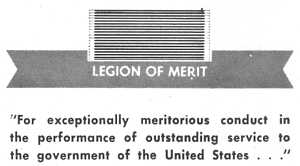 CHAMBERS, LESTER S., Rear Admiral, USN, as Bureau of Naval Weapons Fleet Readiness Representative Atlantic, Naval Air Station, Norfolk, Va., from September 1962 to July 1966, for his substantial contributions to naval weapons superiority and for facilitating the introduction and operational effectiveness of new naval weapons systems for the Atlantic Fleet.
COMBS, WALTER V., JR., Rear Admiral, USN, as Assistant Chief of Naval Operations (Manpower), from June 1964 to July 19615, for his role in the planning and implementation of the civilian substitution program with its complex civilian/military interrelationships.
NEW, WILLIAM N., Rear Admiral, MC, USN, as Director of the Staff, Office of the Deputy Assistant Secretary of Defense (Health and Medical), for his work with the medical services of the three military departments in the procurement of medical personnel, the programing and construction of medical facilities, medical supply, medical planning and preventive medicine.
Gold Star in Lieu of Second Award

ROEDER, BERNARD F., Vice Admiral, USN, as Commander Amphibious Force, U. S. Pacific Fleet, from May 1965 to July 1966, for his work in achieving and maintaining the highest possible state of material and operational readiness, which has brought new strength and flexibility to the amphibious forces engaged in the Vietnamese theater of operations.

Gold Star in Lieu of Second Award

ZUMWALT, ELMO R., JR., Rear Admiral, USN, as Commander Cruiser-Destroyer Flotilla Seven, from July 1965 to July 1966, for his efforts as Chief Observer for Fleet Exercise Base Line and his part in Fleet Exercise Gray Ghost, which resulted in progressive improvement in many areas of Fleet capabilities and readiness.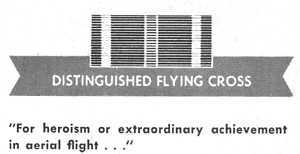 EDSON, DARRELL W., Lieutenant, USN, as a pilot in Attack Squadron 152, embarked in USS Oriskany (CVA 34), during an air search and rescue attempt in North Vietnam on 13 Nov 1965. When alerted that a U. S. Navy aircraft had been shot down. LT Edson proceeded immediately to the scene and descended into the search pattern to identify the downed pilot Visually amidst the myriad of North Vietnamese people who were surrounding the area. Although visibility was restricted by low ceilings and rain, and despite a continuous barrage of enemy small arms fire. he made several exceptionally low passes at bush-top level in an attempt to divert the captors and possibly allow the pilot to evade. LT Edson courageously remained in the search area until his wingman suffered a bit and was forced to retire from the area. Later inspection revealed that LT Edson's aircraft had sustained 12 hits of various sizes.
HALVERSON, RICHARD KENNETH, Lieutenant Commander, USN, while attached to Attack Squadron 195, embarked in USS Bon Homme Richard (CVA 31), on 23 Sep 1965. LCDR Halverson, flying on a road reconnaissance, displayed extraordinary skill by destroying a bridge in North Vietnam. His attack resulted in the complete collapse of the bridge span and supporting structure into the river bed. LCDR Halverson's markmanship in an area of known enemy ground fire was in keeping with the highest naval traditions.
HOPPS, GARY D., Lieutenant, USNR, posthumously, as a pilot in Attack Squadron 145, embarked in USS Ranger (CVA 61), during a reprisal attack against a vital North Vietnamese communications link consisting of a highway bridge and an overpass over a road junction, on 10 Feb 1966. As a member of a three-plane flight, LT Hopps carried out bold and aggressive attacks in the face of intense enemy antiaircraft fire, scoring direct bits on the bridge with his two 500-lb bombs and direct hits on the overpass and road junction with the remainder of his bombs. LT Hopps' aircraft was last seen enveloped in enemy antiaircraft fire, after which it crashed and disintegrated on impact in the immediate vicinity of the target area. Through his determined and heroic efforts, he contributed materially to the effort of the U. S. in the Vietnam conflict at the cost of his life.
MCWHORTER, HENRY S., Lieutenant, USNR, posthumously, as pilot of an unarmed jet photographic aircraft in Light Photographic Squadron 63, Detachment Golf, during a coordinated strike mission against a military target in North Vietnam on 23 Aug 1965. Assisting the jet attack element in locating the target area, LT McWhorter, -in the face of intense enemy antiaircraft fire, orbited over the target in his unarmed aircraft while simultaneously transmitting a radio signal to the attacking aircraft, thereby allowing them to home on the target.
SHAW, EDWARD B., Lieutenant (jg), USNR, posthumously, as a pilot serving with Attack Squadron 165, embarked in USS Coral Sea (CVA 43), while conducting a rescue mission in North Vietnam on 17 May 1965. After locating a downed Air Force pilot deep in enemy territory, LTJG Shaw proceeded to a rendezvous with rescue helicopters and provided protective cover while guiding them to the scene. He carried out repeated strafing and rocket attacks on enemy forces in the immediate area while the helicopters were completing the rescue. 1, TJG Shaw, by his skill and courage in the face of enemy fire, contributed materially to the success of the rescue operation.
Gold Star in Lieu of Second Award

THOMAS, HARRY E., Commander, USN, posthumously, as Commanding Officer of Attack Squadron 153, serving aboard USS Coral Sea (CVA 43) as a member of the U. S. Seventh Fleet, during the period 7 February to 13 Aug 1965. Planning and coordinating many major strikes conducted by Coral Sea aircraft against targets in North Vietnam, CDR Thomas, as airborne strike leader, was the first to arrive on target, positively identify it, deliver his ordnance and remain in the immediate target area to control and coordinate the remainder of the strike. During this period, he led successful massive air strikes against such heavily defended targets as Vinh, Than Hoa, the Dong Phoung Thong Bridge and the Puc Loi Naval Depot. On two occasions he guaranteed success of the missions by personally dropping bridge spans. On another occasion he led two successive strikes to account for the destruction of two PT boats and damage to a third. Particularly effective on night reconnaissance missions, CDR Thomas, using self-developed tactics, was consistently able to locate and destroy enemy vehicular traffic. On 13 Aug, he lost his life when his aircraft was bit by enemy fire and crashed while he was leading a small strike group on a low-level mission against an enemy surface-to-air missile site.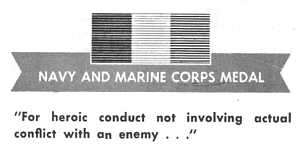 McKNIGHT, LEE T., Fire Control Technician 1st Class, USN, while serving aboard USS Albany (CG 10) at sea approximately 200 miles east of Cape Hatteras, N. C., on the morning of 5 Mar 1966. A fellow sailor was washed overboard from USS Aucilla (AO 56). He was sighted by Albany lookouts, and the cruiser was immediately maneuvered into position to attempt a rescue. McKnight, responding to the cries for help from the injured and nearly exhausted victim, leaped from Albany into the 12-foot seas churned by gale force winds and swam approximately 20 yards to the victim. Towing the man toward the ship, he succeeded in attaching a recovery line to him and helped him aboard. By his prompt and courageous actions, McKnight saved the life of another man at the risk of his own.
Page 57