River Patrol Forces Memorial Monument
Gamewardens of Vietnam Association was formed in 1968 with 12 charter members. These men were U.S. Navy veterans of the River Patrol Force, Task Force 116 whose area of operations was the Mekong Delta of South Vietnam from 1966 to 1971.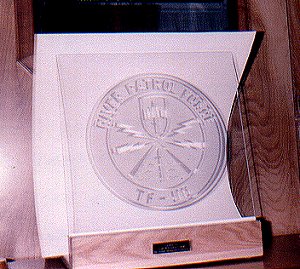 This gadget was used to engrave the logos on our monuments. It was presented to us by Norfolk monument company.
The hardwood base was made by CJ Clifton.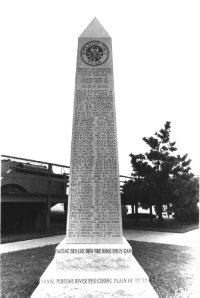 The River Patrol Forces Memorial Monument is a 15-foot granite obelisk that sits on a 4-foot square tiered base. Around the base of the obelisk are inscribed the names of the battle engagements in the Mekong Delta that Task Force 116 actively participated in. Inscribed on the length of the obelisk are the names honoring the 290 sailors of the black beret "brown water navy" who died in service to their country during the Vietnam War. Both the U.S. Navy and River Patrol Force Task Force 116 emblems are attached to the obelisk.
The inscription below the Task Force 116 emblem reads, "ERECTED AND DEDICATED TO THE MEMORY OF OUR FALLEN COMRADES".
The River Patrol Forces Memorial Monument was dedicated by the Gamewardens of Vietnam Association in August 1980 to perpetuate the memory of those who were killed during that in-country naval operation. Many former Gamewardens and their families came from all over the country for the memorial monument dedication service. Threatening skies reminded many River Patrol Force veterans of the monsoon season in Vietnam while taps, played by a Navy band, sounded over the Little Creek Naval Amphibious Base. Former POW LCDR Michael Christian, USN (Ret.) delivered the keynote address during the ceremony.
This memorial is located near the Amphibious Museum at the Little Creek Naval Amphibious Base, Norfolk, Virginia. A second memorial is located at the Amphibious Base in Coronado CA.
Currently, more than 500 veterans of the River Patrol Force are members of the association. The Gamewardens of Vietnam Association also provides an annual scholarship grant to sons, daughters, and grandchildren of a River Patrol Force veteran.
---
Photos submitted by: Lee Wahler
(click image for close-up view)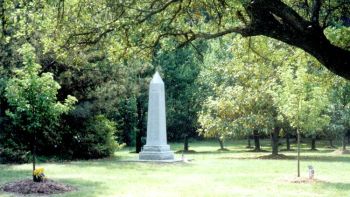 ---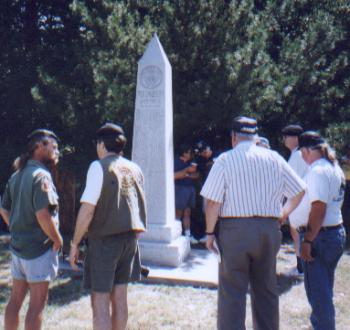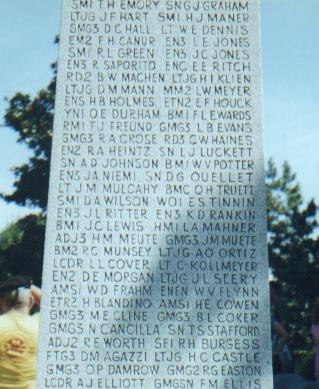 Coronado TF116 Memorial Obelisk 532
Photos submitted by: Rod Morgan
---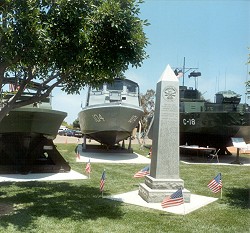 Small Boat Display with Gamewardens Obelisk
Photo submitted by: Jim Dickson
---
Coronado Small Boat Display with Memorial Obelisk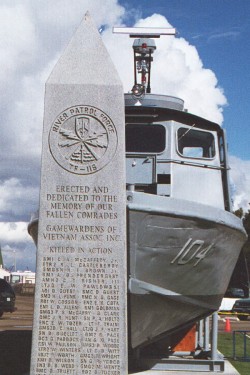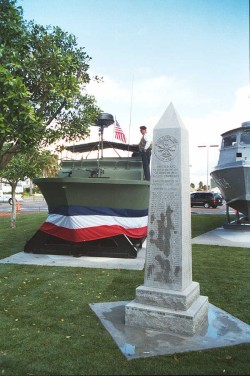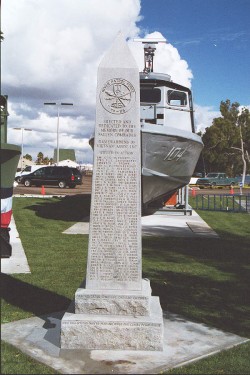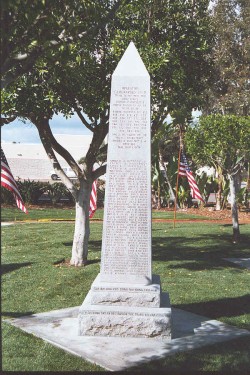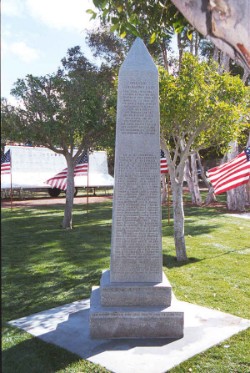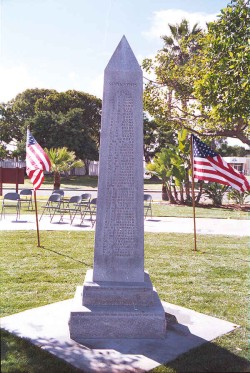 Photos courtesy of Kent Hawley, "Delta Hilton" (YRBM-20)