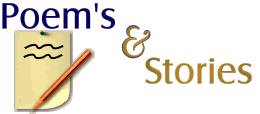 We hope you enjoy our Poems & Stories page, if you have a Poem or Story that you would like to see listed here, send it to The Webmaster.
Vietnam Combat Photo Surfaces After 37 Years
WWW.FIREBASENETWORK.NET
By Staff Writer: Rick Townsend
firebaseadrian@tc3net.com
7/12/05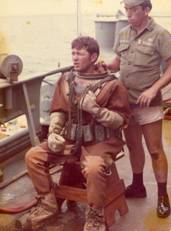 U.S. Navy deep water diver Steve Olson, 1972
Retired U.S. Navy deep water diver, HTC (DV), Steve Olson of Lynn Haven Florida never realized he was in possession of a photograph that held much importance to the crew of a patrol boat in Vietnam in 1968.
Last week, Vietnam combat veteran Steve Olson was surfing the internet for information on his old outfit in Vietnam when he came across Jere Beery's name and web site information. "Jere and I served with PBRs at River Section 511 in Vietnam. All these years I thought he had been killed on the river. I had no idea he had survived," Olson stated.
Beery and Olson served together with the U.S. Navy's river patrol forces in Vietnam. Both men were stationed at Binh Thuy in the Delta, on the Bassac River near the city of Can Tho. "Beery and I went through training together before going to Nam. I remember him well. We were buddies", Olson said.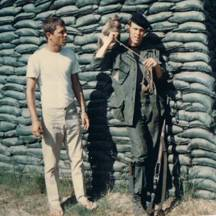 Seaman Steve Olson and Seaman Jere Beery at Binh Thuy PBR base in 1968. The monkey was a patrol mascot named Jocko. This picture was apart of Beery's photos from his time in Vietnam which he shared with Olson.
The boats Beery and Olson were assigned to were called PBRs (Patrol Boat, River) and the crews that manned these boats were called River Rats. In the mid-60s the Navy turned lightweight 31-foot fiberglass hull pleasure craft into small heavily armed high-speed patrol boats, with each PBR brandishing three fifty caliber heavy machine guns and an assortment of other weaponry. For the most part, the River Rats themselves consisted of all volunteers from U.S. duty stations worldwide. The only real requirement for joining this specialized unit was a willingness to wage close-quarter combat with the Viet Cong on the waterways in Vietnam. The PBR crews never avoided a chance to engage the enemy and their combat history is well documented by the United States Navy.
On the night of March 1, 1968, Jere Beery's two boat patrol was ambushed by a substantial force of well trained NVA and Viet Cong on the Bassac River. Several positions of heavy machine guns and rocket propelled grenades (RPGs) opened fire on the two small PBRs of Bravo Patrol just after dark. Two RPGs penetrated the thin fiberglass starboard side of Beery's boat and exploded. "The first RPG had my name on it. It came through the side of the boat and exploded right were I was standing," Beery recalled. Seaman Beery was severely wounded in the stomach, legs and arms by shrapnel. The patrol officer, LT. Richard Godbehere, and M60 gunner Seaman Harold Sherman were also wounded and knocked off their feet by the explosion in the boat. The second RPG hit the boat's grenade locker and set off several grenades. Once again, the crew was blown to the deck and again wounded by hot pieces of enemy shrapnel. The story of this firefight and struggle for survival has become legendary among the river patrol forces and is affectionately known by many as "The Godbehere Patrol".
On the morning following the ambush, after the shot-up #60 PBR was moored back at the base, Seaman Steve Olson took a picture of Beery's damaged boat as he went out on patrol that morning. Little did Olson know what his picture would mean 37 years later. "I never gave it another thought," Olson said. "Then, when I found Beery last week, I sent him a few of my photographs that had survived over the years. I had forgotten that was his boat," Olson added.
Once Jere Beery viewed the photos he got excited. "The RPG hits on a boat in one of the pictures were exactly where they were supposed to be. I sent the picture to my patrol officer for confirmation," Beery said.
LT. Richard Godbehere of Kapaa Hawaii, Beery's PBR patrol officer that night replied immediately. "Amazing! There is no doubt in my mind that is our boat," Godbehere said. "I never thought I would see that boat again," Godbehere added.
According to Godbehere, there were no pictures routinely taken by the Navy when a PBR came back to base all shot up. "They just patched them up and sent them back out on patrol," Godbehere said. "The fact that this picture even exist is truly a miracle," he said.
David Otto, of Jefferson Ohio was the forward gunner on Beery's PBR that night. "I have examined the photo carefully and the odds of another PBR from the same river section having two RPG hits in exactly the same places as ours is astronomical," Otto stated. "In fact, it appears the boat is docked right where I put it on the night of March 1st," He added. David Otto was the only person not seriously wounded on the boat that night and he was the only crew member left to take the crippled PBR back to the base after everyone was medivaced out. "The RPGs had knocked out one of the boat's engines. I had to limp my way past the ambush area and back to the base that night by myself. I had lost my entire boat crew and I was not in a good mood. As good as this photo is, it doesn't begin to show how gruesome the inside of the boat looked," Otto said.
Beery, Godbehere, and Otto all agree that finding this photograph not only supports their personal accounts of the events that transpired that night, but just adds credence to the remarkable story of how they survived. "They say a picture is worth a thousand words, but this photograph is priceless to us," Beery said. "How it found us after all of these years is truly mind boggling," he added.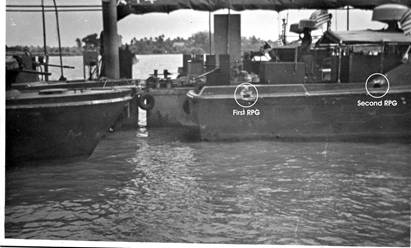 This is the Photo Steve Olson took of Beery's PBR. #60 PBR boat crew on the night of March 1, 1968 - Patrol Officer, LT. Richard Godbehere - After Gunner, Seaman, Jere Beery - M60 Gunner, Seaman, Harold Sherman - Boat Captain, BM1, Dallam Bailey - Forward Gunner, GM3, David Otto
Harold Sherman from Tyler Texas was the M60 machine gunner on Beery's boat and was awarded the Silver Star for his actions the night of the ambush. Sherman extinguished a fire in the grenade locker with his bare hands and threw unexploded grenades over the side. Harold Sherman passed away in 2003. "Sherman was one of the guys that saved my life that night. We will never forget him," Beery stated.
After Vietnam, Steve Olson went on to pursue a 20 year career as a deep water diver with the U.S. Navy. Olson has over 2500 dives to his credit.
Both Olson and Beery have vowed to keep in contact.
BM1, Dallam Bailey was the fifth crew member onboard the PBR that night. Olson's photo has been forwarded to Bailey for review and a response is expected soon.