We hope you enjoy our Vietnam Veteran's photo gallery – it's made-up entirely from submissions by members and visitors. If you have a picture you would like to submit, send it with caption information to GW President. [ Click on a thumbnail image for close-up view. Navigate through the pages using the text links at the top and bottom of each page. ]
The following images submitted by: Matt Zimmer, Mine Division 112

RMZ Canal Boston Whaler
VC Spiderhole Rung Sat
Sunset
Sunset 2
SEAL STAB On Step
Nha Be Sunset
MSB Bottom View Being Loaded
MSD Minesweeping Drone
MSB Crew
Bob Radomski
Matt Zimmer
Mike Harley
Mag Tail Out Long Tau River
Douche Boat
Bank Sweeper
MSB 47. Mine Division 112 operated wooden hulled MSB's out of Nha Be and Danang sweeping the Long Tau and Cua Viet Rivers.
Nha Be Dock Aerial View 1970
MSB at Dock
Ben Luc River Boats - submitted by: Albert Moore, Mike Worthington and Matt Zimmer


MISCELLANEOUS
Riv Div 543

Photo Excerpts from the 1969 Clearwater Cruise Book
Another Navy team contributing to the success of NSA's logistics mission is Task Force Clearwater. In order to make the inland waterways of I Corps safe for NSA's river craft and to deny the use of the rivers to the enemy, Task Force Clearwater was established under the command of a U.S. Navy captain. The main elements of Task Force Clearwater are the Dong Ha River Security Group based at Cua Viet and the Hue River Security Group based at Tan My. The workhorse of the task force is the River Patrol Boat (PBR) such as those in use in the Mekong Delta. Other craft include LCPL's and LCM's converted for river minesweeping and MSB's from Mine Division 112. The PBR's are from River Division 521 aboard PBR Mobile Base One at Tan My and River Division 543 at Cua Viet. The efforts of Task Force Clearwater in securing the waterways for NSA's logistics craft is another example of a full Navy team in action.
River Patrol Boats (PBR's) of River Division 543 make routine checks of traffic on the rivers between Cua Viet and Dong Ha.
GMG3 Williams checks his forward .50 caliber machine gun after completing a 12 hour patrol.
EN2 D. Evans supervises a towing drill.
Flying it's "last patrol" flag, PCF-21 nears the harbor at high speed.
A "swift" returns to Costal Division home base.
Assuming command of Coastal Division 12 LCDR D.R. Breckenridge (left) CMDR C.F. Horne, Commander Coastal Squadron 1 (center) and outgoing commander, LCDR K.B. McGhee (right)
Adjacent to the NSA Small Craft facility in Danang.
Vice Admiral E.R. Zumwalt, Jr. Commander US Naval Forces Vietnam
The Honorable John H. Chaffee Secretary of the Navy
Rear Admiral W.V. Combs, Jr. Commander Service Force US Pacific Fleet
Stewardsmate Second Class F.M. David accepts the Navy Unit Commendation on behalf of the US Naval Support Activity, Danang, from Vice Admiral E.R. Zumwalt on August 14, 1969.
Secretary of the Navy, the Honorable John Chaffee, presents the Presidential Unit Citation to LT G.P. Brent, Commander River Division 521 for the Division's heroic actions during the 1968 Tet campaign.
A Vietnamese counterpart prepares to moor a PBR. Vietnamese sailors train with the river divisions before going to the Mekong Delta to take over PBR divisions there.
A friendly sampan on the Perfume River gives SN D. Williams a wave while he mans the forward .50 caliber mount on a PBR.
GMG3 E. Duplechin and his Vietnamese counterpart check personnel on a water taxi for I.D. cards and contraband.
LT T.R. Babbitt, Officer-in-charge of PBR Mobile Base One and LTJG R.Z. Hutcherson, Assistant Officer-in-charge

Special: Time Off

– Photo Excerpts from the 1969 Clearwater Cruise Book

Special: Time Off

– Photo Excerpts from the 1969 Clearwater Cruise Book

Special: Time Off

– Photo Excerpts from the 1969 Clearwater Cruise Book

Special: Time Off

– Photo Excerpts from the 1969 Clearwater Cruise Book

Special: Time Off

– Photo Excerpts from the 1969 Clearwater Cruise Book

Special: Time Off

– Photo Excerpts from the 1969 Clearwater Cruise Book

Special: Time Off

– Photo Excerpts from the 1969 Clearwater Cruise Book

Special: Time Off

– Photo Excerpts from the 1969 Clearwater Cruise Book
USS Sentry AM 299 - HQ 09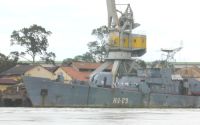 Photo taken on 13 September, 2003 showing the former USS Sentry (AM 299) built in 1944. It was turned over to the South Vietnamese Navy in 1962.

(Submitted by Steve Loomis, US Naval Advisory Group, Vietnam 1970-1971.)
---
From: "Steve Rains" <Steve@meccoconcrete.com>
To: <laurence.bissonnette@worldnet.att.net>
Subject: Steve Loomis photo
Date: Thu, 29 Jan 2004 15:47:52 -0500
Good afternoon,
While I was scavenging around yesterday, I was looking over your site (Vietnam Vets Photo Gallery) and saw the 09/03 photo by Steve Loomis of the HQ-09, which he states is the former US Sentry AM-299 transferred to VNN in 1962. This peaked my interest, since my dad was a Lt jg on the Sentry May 1945 thru her decommissioning, and I've been trying to track down info on her. I would like to comment that I believe that this HQ-09 is not the former US Sentry, but may more likely be a Petya III class corvette bought from the Russians in 1978, which the Vietnamise numbered HQ-09. The lines of this ship seem to be different than pics of the Sentry, and the corvette at about 1040 tons and 268 ft long was (is) much longer and heavier than an Admirable class minesweeper (about 625 tons and 184 long), and had heavier armament.
The USS Sentry was renamed the Ky Hoa by the VNN, and marked with 09 (only) on the prow, according to pictures of her. At the time of the fall of VN, she was just coming off her last patrol (limping in on one engine). Her captain ended up spending 10 years in prison. At my last contact with a former VNN officer, the fate of the KY Hoa is unknown, but she apparently never left VN.
Just thought I'd pass this along. You folks do good work. Keep it up. God bless America.
Steve Rains