We hope you enjoy our Vietnam Veteran's photo gallery – it's made-up entirely from submissions by members and visitors. If you have a picture you would like to submit, send it with caption information to

GW President

. [ Click on a thumbnail image for close-up view. Navigate through the pages using the text links at the bottom of each page. ]
The following images submitted by: QM2 William Cooper - Dong Ha River Security Group

: Cua Viet River Mouth
Camp Cua Viet (Camp Kistler) on the south bank. Marine R&R camp on east north bank nearest river mouth and the village of My Loc directly west. On the north bank is a Marine rest and recuperation (R&R) camp. Tents mark the position in a corner formed by the sea to the east and the river to the south.
Dong Ha River Security Group Boat
Captain QM2 William Cooper, tallest man, on the helm just before sunset taking his LCPL MKII River Patrol Boat up the Cua Viet river for the nights patrol sometime in 1968 or 69. I hate to say it but I don't remember crew members names. Directly behind the boat is the river mouth opening up into the South China Sea. Just to the right is Camp Cua Viet also known to the Marines as Camp Kistler.
Taken at Da Nang harbor during first tour. USS Iwo Jima (LPH-2). Copters kept coming and going with wounded from the war zone.
Clark County (LST 601)–where I was stationed on 1st tour. Oldest broken ship in the Navy, making trips from Phillipines and Guam with supplies to Nam. Every time we would hit a typhoon, the engines would stop running.
Chopper bringing supplies to Hospital Ship USS Sactuary.
Taken first day of second tour—with River Division 532.

The man in the beret is Rolph Ventker—have not been able to locate him since the war. If you know him, I'd like to make contact.
My station at work—my "Gun Tub".
Contents of gun tub & on-board ordinance::
1000 Rounds 50 cal
112 Rounds 40mm
52 Rounds 60mm HE
34 Rounds 60mm WP
11 Rnds 60mm Flare
51 Pop Flares
6 LAW rockets
18 Concussion Gren.
18 Frag Grenades
7 Incindiary Grenades
70 Rnds Shotgun Shells
7,700 Rounds 7.62mm
Me with Petty Officer Gandy—another shipmate I've never been able to find or contact since the war.
A B-40 taken from the bad-guys. I know where I am here! YRBM 21.
A view of parked River Division 532 PBRs taken from the bow of YRBM 21.
Larry Darland of River Division 532 in beret near Chou Doc.
My Dad gave me a Polaroid color pack II camera for graduation and I took it to Nam. I discovered that if you cover ½ the lense with electrician's tape, snap the pic & then move the tape to the other side, snap the pic again before removing the card from the camera—you could get two photos on one card. So here I am as my conscience telling myself, don't touch the girl. I had a buddy helping me with the photos. Couldn't get the girl to sit on my knee.
Here again—my conscience telling me "thou shalt not kill". But we all know how that goes.
At ambush on the canal, but again we had to set-up on the beach because the tide was low.
A PBR hangover—after a rough night out in the thick of battle.
Just leaving the YRBM to go on night patrol—boats were sent out in twos. This was my cover boat at the time.
There was a swarm of these (about 20) that showed up one day asking for food. They were Chinese mercenaries who claimed to be on our side. We gave them a lot of C-rats and other items and never saw them again. Phuox Xuyen.
Seawolf helicopter atop YRBM 21 at Chou Doc. Loved these guys—they would show up minutes after we would get into a firefight and VC would flat take off running!
Me and Huston Johnson—if anyone knows anything about him, his serial # and rank are: ENFA B441682 Riv Div 532.
Minigun mounted on PBR. This gun was assigned to Rolf Ventker, a German guy from Colorado whose folks owned a big flower shop... heard of him?
The snipe has his work cut out for him before going out on patrol that night.
Here looking straight out is the territory Charlie has to travel across in order to get to and across the canal. It's almost all flat land and it looks like you could see them coming from about a mile out, but there are humps and thousands of spider holes out there. The border is approximately 1000 yards out. N.E. of Chou Doc—YRBM 21.
Fellow PBR guy Robbi Glenn—ever heard of him?
Officer Johnson at Phuoc Xuyen with someone's pet monkey.
Playing Games—my best friend in Nam from Toledo, OR, Bradley Harris—have never been able to locate him.
One of the first photos I took trying to show my Dad and girlfriend what a PBR looked like.
Friend in Nam—Huston Johnson.
Checking out area next morning after big sapper attack from this hooch during the night.
The following images submitted by: Richard Roy Daugherty.
Construction of the PBR base at Binh Thuy Vietnam 06/1967
Construction of the PBR base at Binh Thuy Vietnam 06/1967
Richard Roy Daugherty EM3 NavSuppact Det Binh Thuy 06/67 - 06/68
Binh Thuy Badge
Navsuppact Det Binh Thuy repaired & ready for return to service Boat Officer Lt. Godbehere.
LCM Crew Navsuppact Binh Thuy L to R: Paul Edder, Roy Daugherty, center Paul Resin
June 1967 June 1968
The following images submitted by: Tom Daugherty.
My arrival flight to Thuy Nhon. Vam Co Tay River. Operation Giant Slingshot.
A resupply chopper landing at Thuey Nhon.
Riv Div 535 on way to Thuey Nhon.
My locker in Danang
Coming in from R&R.
Riv Div 535 on way to thuey nhon.
The morning after the biggest fire-fight in PBR history. ???
The morning after the biggest fire-fight in PBR history. ???
Riv Div 535 on way to thuey nhon.
ASP-1 aftermath
New Construction of Thuey Nhon.
Moc Hoa
Moc Hoa
Moc Hoa
River Patrol
River Patrol
Enemy Clothing, personal equipment and a Russian-made sighting device are inspected by U.S. Navy river patrol boat (PBR) crewmen who captured them. Crewmen of PBR-753 and PBR-754, based at Nha Be, eight miles south of Saigon, killed at least 15 enemy troops believed to have been involved in a rocket attack on the U.S. Army airfield at Vung Tau, 35 miles SE of Saigon.
Patrol Craft Fast (PCF) Swift Boat
The U.S. Navy's "Swift" boats, designated PCF for "Patrol Craft Fast," were developed from a civilian design for use by the Coastal surveillance Force (Task Force 115) in Operation Market Time. Originally designed to resupply oil well rigs off the Louisiana Coast, these high-speed craft have become the largest boat group in Operation Market Time. They are used for coastal surveillance and counter-infiltration patrols, river and canal incursions and gunfire support.

Living conditions on board each craft permit normal patrols of up to 36-hours duration.

The Swifts first arrived in Vietnam October 31, 1965.
Like Navymen Everywhere this Vietnamese sailor likes to chat about home and friends during a break in the day's routine.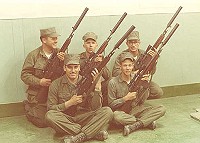 In the picture rear left to right,
Mike Hill, Art Valde, Steve Lee - Front, Joe DeSerio, Rick McLarney.
The boat crew of 61 Boat was Gary Moss boat captain,
Ernie D'Angelis snipe, Joe DeSerio gunner, and Rick McLarney seaman.
The following images submitted by : Jim Dickson re: SEAL Team One, Detachment Golf
SEAL Team One, Detachment Golf
I was crewing on this Mike boat when we were ambushed and I was shot in the head on 7 OCT 66. Out of twenty-eight on board (three of us were not SEALS) there were twelve of us in the Third Field Hospital, Saigon the next morning. "SEAL Team One, Detachment Golf, in the Rung Sat Special Zone, September, 1966."



: Three Amigos Nha Be', 1966
"Please excuse the poor condition of the enclosed photo. I carried it around in my wallet for about twenty-five years. It was even under water while I was canoeing on the Russian River. I am on the left (note the TF 116 shoulder patch). The two sailors next to me were with Base Support in Nha Be' in 1966. They were my best friends but since my head wound on 7 OCT 66 I can't remember their names."

Mike Hill, (Leavenworth, KS Police Department) formerly NSA Nha Be (Feb 1966-Sept 1967 says, "I believe the person on the right, with the sunglasses, is Pat Hagan (Hagen). The person in the middle could be Robert "Bob" Fulton. But don't hold me accountable for any of this info."

Jim Dickson concurs. He says, "Yes, the guy with the sunglasses is Pat Hagen (Hagan). He is from New Jersey (or maybe New York) and loved listening to Frank Sinatra."

"I'm not as sure about Bob Fulton. I do know that he is from Canton, Ohio. He once disarmed a South VN who had a carbine pointed at my stomach."

"Thank you, Mike. If I ever run into you at a reunion, I'll buy you a beer."

Too Young


Submitted by Jim Dickson (Pictured here)