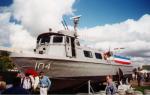 At 1500, February 3, 2001 onboard PCF-104at CISM Field, Naval Amphibious Base, Coronado, Ca. was an extremely nostalgic sentimental time of day for QMCS John (Jack) C. Gallop, USNR.
Enlisting in the US Navy a way back in 1966, this will be his final re-enlistment ceremony which will allow his Military service to span 30 years. Senior Chief Gallop is presently assigned to NRCFA Chin Hae Det-1 where he acts in the capacity as the Command Senior Chief at the Naval Reserve Center, Fresno, Ca.
Senior Chief Gallop is one of a very few men still on active or reserve duty who actually served during the Vietnam War. He served with CTF-115 Coastal Squadron One, Coastal Division 12/16 as a crew member onboard PCF-55 from 5/69 to 11/69, PCF-70 from 11/69 to 3/70, and with Naval Advisory Group 143 (Swift Boats) Da Nang from 3/70 to 5/70.
The American Flag flying in the breeze from the Swift Boat flag staff, along with the attached original Commander Coastal Division 12 pennant of Captain Kenneth B. McGhee, USN, Ret. (then LCDR). The full dress ship bunting around the Swift Boat Railing on main deck and the 13 American Flags to dress the perimeter of the Small Boat Display. It was beautiful military setting for the re-enlistment ceremony to be conducted which was sentimental and a little emotional as the pride could be felt by everyone in attendance for Senior Chief Gallop's final I DO.
Prior to the commencement of the re-enlistment ceremony onboard PCF-104, The Commanding Officer, LCDR Steven Semple, USNR-T, Naval Reserve Center, Fresno, ca. spoke briefly to the assemble group of Family Members, guests, and Senior Chief's complete reserve unit in attendance in ranks.
Senior Chief's family members in attendance for the ceremony was his wife Barbara, his mother Margaret, aunt and uncle from Tennessee Mr. & Mrs. Vic Fox, his sister Peggy Bridges, nieces Kaity & Brittany Bridges, and son-in-law SSgt James V. Staiky.
Friends in attendance was CDR David P. Atencio, USN, Ret, CDR Ann Fallon, MC, USN, John Branca, and Ralph Fries.
His Reserve Unit members from Task Unit Coronado in attendance was BMC Miguel Victoring OIC, BM1 Ryan H. Metzler, MR1 Joseph B. Healy, BM2 Edward A. Armstrong, BM2 Henry Perez, BM2 Debra Sanchez, BM2 Shawn M. Schubert, BM2 Christopher M. Wells, DC2 Token M. Adams, EM2 Eddie R. Dawson, IC2 Nikki L. Adams, MM2(SS) Terry S. Faubel, MM2 Monty F. Sharp, MM2(SW) Robert S. Roberson, BM3 Ocegario Prado, MM3 Jack D. Sneed, and SH3 Oscar Prado.