Modern Riverine Warfare
In World War Two, the US Navy began using small craft (motor torpedo boats variously called PT boats, MTBs, MGBs, Schnellbooten, or MAS-boats) to fight near shore. This developed in the Vietnam War into true riverine warfare (brown water navy), in intertidal and river areas. Shifting military tactics and irregular warfare overseas makes this style of combat even more likely in the future. In January 2006, it was reported that the US Navy plans to deploy three riverine squadrons to Iraq in 2007. These squadrons will relieve Marines who are currently responsible for conducting maritime security operations in the ports and inland waterways of Iraq.
We will showcase news of Modern Riverine Warfare here as it becomes available. Please check back often for news. If you come across an applicable news feature, please feel free to forward it to The Webmaster for inclusion here.
VIDEOS
PHOTOS
NEWS
AWARDS AND SPECIAL RECOGNITION CEREMONIES
---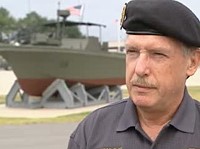 Riverine Warfare on the Pentagon Channel
View this three-part Pentagon Channel video – featuring Gamewardens Larry Weatherall and Wes Weseleskey – as they and the US Navy Riverine Sailors in Iraq discuss the New Brown Water Navy in Operation Iraqi Freedom.
View Video 1 of 3 »
View Video 2 of 3 »
View Video 3 of 3 »
---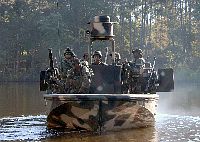 Photo Gallery of Special Operations Craft - Riverine »
---
Anchor's aweigh on the Cape Fear-Navy trains in Bladen for Iraq mission »
Euphrates – Riverine Warfare on the Euphrates River »
Naval Special Warfare Comes Through at Crunchtime »
Navy's new river-patrol force will engage the enemy up close »
Navy's Newest Naval Coastal Warfare Squadron Commissioned »
News from Iraq (November 2007) »
News from Iraq – RIVRON 1 Sailors Return Home (October 2007) »
News from Iraq (November 2006) »
News from Iraq (June 2006) »
New RIVRON ONE website »
Peacekeeping in a war zone »
Riverines Enforce River Curfew on the Euphrates River »
River Runners: navy warriors train for Iraq battle on Cape Fear »
Sailors prepare Iraqis for riverine combat ON THE PEARL RIVER, Miss. »
Stars & Stripes: Navy's revived riverine squadron to patrol dam »
Transcript of Radio Interview with Chief of Naval Operations Adm. Mike Mullen on the G. Gordon Liddy Show »
USS James E. Williams Crew Prepares For Maiden Voyage »
USS Williams helps with pirated North Korean Vessel »
Vietnam vets' experience on boats utilized in Iraq (7/9/2006) »
---
AWARDS AND SPECIAL RECOGNITION CEREMONIES
RIVGRU 1 Sailors Recognized by GWVA
Story Number: NNS070909-06
Release Date: 9/9/2007 10:50:00 AM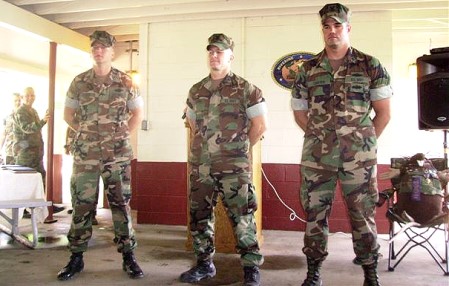 The GWVN Leadership Excellence Award honorees (and A. Billy Rat, Jr.), L to R: HM3 Olson - RIVRON THREE OS1 Herring - RIVRON ONE BM2 Carter - RIVRON ONE (BMSN (?) Ratt, Jr.)
By Mass Communication Specialist 2nd Class (SW/AW) Elizabeth Merriam, Fleet Public Affairs Center Atlantic
VIRGINIA BEACH, Va. (NNS) -- The Gamewardens of Vietnam Association (GWVA) recognized three Sailors from Riverine Group (RIVGRU) 1 Sept. 7, by awarding them the first GWVA Leadership Excellence Award at Naval Amphibious Base Little Creek.
Receiving the awards were Boatswain's Mate 2nd Class (EXW/SCW) Benjamin Carter of Riverine Squadron (RIVRON) 1, Operations Specialist 1st Class Russell Herring of RIVRON 2 and Hospital Corpsman 3rd Class (FMF) Chad Olson of RIVRON 3.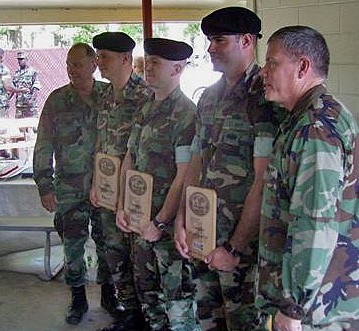 RADM Bullard, HM3 Olson, OS1 Herring, BM2 Carter and CAPT Jordan.
"When we started working with the admiral on this award we specifically asked for deckplate leadership," said retired Capt. John Woody, president of the GWVA. "We were looking for a person who can bring you out of harm's way, take care of the engine problem or fix a weapon if they need to under stress. Each one of the squadrons has provided us with a Sailor that we feel is an embodiment of this award."
The award was designed to honor leadership and service, two principles that the members of GWVA feel are just as important with today's riverine forces as they were when the association was serving.
"I think if you learn from all of the gamewarden stories of what went on in Vietnam, you understand what this award means because in a boat crew of five or six, everybody has got to stand up and be able to lead," said Rear Adm. Donald K. Bullard, Commander, Navy Expeditionary Combat Command.
"I think these heroes in Vietnam saw in numerous firefights that anybody could be a leader in that boat if need be, but it's those special few who, if needed, would take the lead in the most dangerous conditions," added Bullard.
During the ceremony Carter presented the association with a flag flown by RIVRON 1 in Ramadi, Iraq.
"I flew this at Camp Ramadi because we were the first riverine squadron to be in country since Vietnam so I figured it would be appropriate to pass that on to connect the chain between the present and the past," Carter said.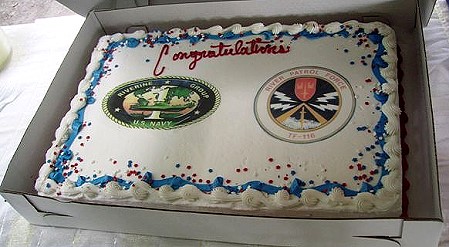 For more news from Navy Expeditionary Combat Command, visit www.news.navy.mil/local/necc/.
---
The first ever recipient of the Gamewardens Leadership Excellence Award is presented to Petty Officer, FC2(SW) Stefanie Dressel of the USS James E. Williams (DDG-95) on February 2, 2007. Gathered around her in this photo are; Gary Marker, John Woody, Larry Weatherall, Jerry Gandy, Skip McIntosh, and Newell Butts. All are members of the Mid-Atlantic Chapter of Gamewardens of Vietnam Association, Inc. (Photo submitted by Vaughn Shuler.)
River Group One Leadership Excellence Award »

---
Navy seeks guidance of Vietnam ''river rats''
By Louis Hansen
The Virginian-Pilot
© April 23, 2006
After spending a year on river patrols in Vietnam, Petty Officer 3rd Class Bill Ferguson had a few memorable welcome-back-to-fleet moments.
One happened at the front gate of Portsmouth Naval Shipyard. Ferguson and some fellow sailors drove to meet their new ship, the ammunition hauler Santa Barbara. The Marine guard looked at Ferguson's chest full of ribbons. The men exchanged words... More »
---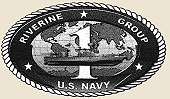 Navy Blue Goes Brown & Green
New command insignia show riverine mission's true colors... More »
---
On-Scene Report "An Integrated Battle Space" – Riverine Warfare Conference Final Wrap-Up
By Eric Mills
US Naval Institute
© April 2006
A call to "build awareness from the blue water to the green water to the brown water" and for the Navy to heed the "three R's"—reorganize, recognize and redistribute—heralded Day Two of the U.S. Naval Institute's 2006 Applied Naval History Conference.
"Riverine Warfare: Back to the Future?" was presented at the U.S. Naval Academy April 6-7, and an estimated 300 attendees—military personnel, civilians, academics—are present. More »
---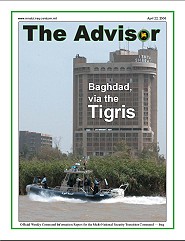 PDF Version of The Advisor - April 2006
The Advisor is an authorized publication for members of the U.S. Defense Department and multinational partners...More »
---
New Navy Force Will Take The Fight Upriver In Iraq
By Louis Hansen
The Virginian-Pilot
© April 10, 2006
At this time next year, about 200 sailors will fill up small boats, man .50-caliber machine guns and watch for trouble along the waterways of Baghdad.
There's a catch, though: At the moment, these sailors have no boats, no manuals and no past missions to call their own. Riverine Group 1 of the Navy's new river combat force based at Little Creek Naval Amphibious Base is starting from scratch. More »
---
Sailors volunteer to dive into high-risk mission, but money, materials fall short of the mark
By Andrew Scutro
NavyTimes staff writer
April 10, 2006 Issue
By this time next year, the Navy's first squadron of river warfare sailors should be on the water, deep inside Iraq. But today, the riverine force has no boats of its own and limited funding for two of its planned three squadrons. The riverine concept of operations was only just approved by Chief of Naval Operations Adm. Mike Mullen on March 29. More »
---
The Brown Water Navy Is Returning! Realignment puts Navy's Land Forces under one command »
---
Special Boat Teams: The 'Wave' of Future Fight

By Journalist 1st Class Sonya Ansarov, Naval Special Warfare Command Public Affairs

CORONADO, Calif. (NNS) — High speed, sharp turns, the ability to stop on a dime, stealth, and enough firepower to make the enemy think twice about attacking, make Mark-Five (MK-V) boats formidable weapons in the global war on terrorism. But it's the Special Warfare Combatant-craft Crewmen (SWCC -pronounced "swick") that make the MK-Vs, and other special operations surface craft, more than just boats. More »
---
New Navy squadron will focus on protecting harbors from terrorism

By Steve Liewer

UNION-TRIBUNE STAFF WRITER February 3, 2006 Petty Officer 1st Class Shane Hartey hoisted the blue-and-white, fishtail flag up the mast until it whipped in the breeze just below the Stars and Stripes. "Man the squad and bring 'er to life!" barked Cmdr. Joseph Bell, commanding officer of the new Naval Coastal Warfare Squadron 5. More »
---

Texas Guard unit finds new assignment is smooth sailing Guardsmen test waters of Tigris River on coveted boat patrol »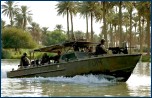 USMC running River Patrol Operations in Iraq »
"Royal in Fallujah" – an article from The Globe and Laurel – a professional publication for the British Royal Marines »