"I wish to have no Connection with a Ship that does not Sail Fast, for I intend to go in Harm's Way."
Captain John Paul Jones
16 November 1778
River Patrol Force (CTF-116)
aka Operation Game Warden
Click to view a part of the historical record as presented in a US Navy press release.(April 10, 1969)
---
---
Happy Veterans Day !
Below is from one who is truely thankful. On behalf of all Viet Nam veterans, we are honored, thank you Quang Nguyen.
On Saturday, July 24th, 2010 the town of Prescott Valley, AZ, hosted a Freedom Rally. Quang Nguyen was asked to speak on his experience of coming to America and what it means. He spoke the following in dedication to all Vietnam Veterans. Thought you might enjoy hearing what he had to say: Start Quote: 35 years ago, if you were to tell me that I am going to stand up here speaking to a couple thousand patriots, in English, I'd laugh at you. Man, every morning I wake up thanking God for putting me and my family in the greatest country on earth. I just want you all to know that the American dream does exist and I am living the American dream. I was asked to speak to you about my experience as a first generation Vietnamese-American, but I'd rather speak to you as an American. If you hadn't noticed, I am not white and I feel pretty comfortable with my people. I am a proud U.S citizen and here is my proof It took me 8 years to get it, waiting in endless lines, but I got it, and I am very proud of it. I still remember the images of the Tet offensive in 1968, I was six years old. Now you might want to question how a 6-year-old boy could remember anything. Trust me, those images can never be erased. I can't even imagine what it was like for young American soldiers, 10,000 miles away from home, fighting on my behalf. 35 years ago, I left South Vietnam for political asylum. The war had ended At the age of 13, I left with the understanding that I may or may not ever get to see my siblings or parents again. I was one of the first lucky 100,000 Vietnamese allowed to come to the U.S. Somehow, my family and I were reunited 5 months later , amazingly, in California. It was a miracle from God. If you haven't heard lately that this is the greatest country on earth, I am telling you that right now. It was the freedom and the opportunities presented to me that put me here with all of you tonight. I also remember the barriers that I had to overcome every step of the way. My high school counselor told me that I cannot make it to college due to my poor communication skills. I proved him wrong. I finished college. You see, all you have to do is to give this little boy an opportunity and encourage him to take and run with it. Well, I took the opportunity and here I am. This person standing tonight in front of you could not exist under a socialist/communist environment. By the way, if you think socialism is the way to go, I am sure many people here will chip in to get you a one-way ticket out of here. And if you didn't know, the only difference between socialism and communism is an AK-47 aimed at your head. That was my experience. In 1982, I stood with a thousand new immigrants, reciting the Pledge of Allegiance and listening to the National Anthem for the first time as an American. To this day, I can't remember anything sweeter and more patriotic than that moment in my life. Fast forwarding, somehow I finished high school, finished college, and like any other goofball 21 year old kid, I was having a great time with my life I had a nice job and a nice apartment in Southern California. In some way and somehow, I had forgotten how I got here and why I was here. One day I was at a gas station, I saw a veteran pumping gas on the other side of the island. I don't know what made me do it, but I walked over and asked if he had served in Vietnam. He smiled and said yes. I shook and held his hand. This grown man's eyes began to well up. I walked away as fast as I could and at that very moment, I was emotionally rocked. This was a profound moment in my life. I knew something had to change in my life. It was time for me to learn how to be a good citizen. It was time for me to give back. You see, America is not just a place on the map, it isn't just a physical location. It is an ideal, a concept. And if you are an American, you must understand the concept, you must accept this concept, and most importantly, you have to fight and defend this concept This is about Freedom and not free stuff. And that is why I am standing up here Brothers and sisters, to be a real American, the very least you must do is to learn English and understand it well. In my humble opinion, you cannot be a faithful patriotic citizen if you can't speak the language of the country you live in. Take this document of 46 pages - last I looked on the Internet, there wasn't a Vietnamese translation of the U.S. Constitution. It took me a long time to get to the point of being able to converse and until this day, I still struggle to come up with the right words. It's not easy, but if it's too easy, it's not worth doing Before I knew this 46-page document, I learned of the 500,000 Americans who fought for this little boy. I learned of the 58,000 names inscribed on the black wall at the Vietnam Memorial. You are my heroes. You are my founders. At this time, I would like to ask all the Vietnam veterans to please stand. I thank you for my life. I thank you for your sacrifices, and I thank you for giving me the freedom and liberty I have today. I now ask all veterans, firefighters, and police officers, to please stand. On behalf of all first generation immigrants, I thank you for your services and may God bless you all.
Quang Nguyen Creative Director/Founder Caddis Advertising, LLC
"God Bless America" "One Flag, One Language, One Nation Under God"
---
Click Here to see the PBR Restoration Project
Managed by the Mid-Atlantic Chapter (Larry and Jerry) and
Beach Marine.
I am sure you will all agree a "Well Done!" is in order.
---
---
Newsletter
Click Here to read the last newsletter in PDF format.
---
USS Zumwalt Commissioning
Complements of/to Jerry Gandy (from email 10/17/2016)
Just returned yesterday from Baltimore MD. and the commissioning of the USS (Elmo, "Budd") Zumualt. What a spectacular event! It was estimated that 10,000 attended. Many high dignitaries were in attendance, including the Secretary of the Navy, who I actually spent some time chatting with, and the Chief of Naval Operations. The Secretary stated that the next ship of the Zumualt class will be named the Lyndon B. Johnson. The ship is super stealth and awesome in size and capabilities. (in fact, the size of a cruiser)

Bob Browers of the Northwestern Chapter of Gamewardens, Vietnam to Present presented the ship with two beautiful gifts, a silver plated, encased SKS Rifle that was actually captured in Vietnam, and donated by Larry Bissonnette, and a beautiful shadow box. We must all thank Larry for the donation of the rifle.

Nancy Re (Bless her heart), who did a whole lot of prepping and organizing to facilitate the care and needs of Gamewardens attendees, is due many thanks, and I would like to take this opportunity to (again) add my appreciation and thanks to her. She has developed a "Scrap Book" containing 250 photos of the proceedings, and of Gamewardens who attended. Please honor her by reviewing them! If you were not there, you missed a a great show!
(Our thanks to Jerry. When it is well said, repeat it. View the pictures below to see the rifle and shadow box. Both looked teriffic, and were immediately taken to special display areas on the ship. Special thanks to Larry Bissonnette and the NE Chapter. To Nancy Re, on behalf of all those who attended; We deeply appreciate your efforts to insure this was a truely 'great show'.)
Click here to view pictures taken by the Gamewardens attendees of the Commissioning Ceremony of the new first-in-class stealth destroyer the USS Zumwalt.
These pictures were taken across two days. The first day was when the presentations were made to the ship/crew immediately following the commissioning ceremony rehersal. The second day was of course the actual ceremony. Gamewardens personnel were honored by being given front and second row seats at this auspicious occasion! We were all individually greeted by the Secretary of the Navy with a handshake and words such as "So good to see you here. You know this ship was built for you guys".
---
Ken Delfino Shares some information re: VN vet service awards
In the process of doing some research for a buddy I served with whose records are horribly incomplete! He served on PCF 66, CosRon 15 from 6/66-5/67 and in RivDiv 533 from 1/68-1/69. He was on my boat and the guy who saved my life on 26JUL1968! His final DD-214 shows he was awarded the National Defense, Viet Nam Service and Viet Nam Campaign medals ONLY. He also was awarded, but never received, a Navy Commendation Medal with "V"; it was downgraded by Saigon from a Bronze Star! His records don't show the Cross of Gallantry, Civil Actions 1st Class, Navy Marine Corps Combat Action Ribbon, the Presidential Unit Citation (for Tet '68) and Navy Unit Commendation he earned while on PCF 66 in CosRon 15. Then I find this other award that apparently was authorized to all Naval and Coast Guard personnel who earned the Viet Nam Service Medal and that is the Viet Nam Naval Service Medal (a Vietnamese award). The info is at: www.amervets.com/replacement/vnnv.htm.
---
Anniversary VIETNAM - 50 years later
---
SWCCs Show their stuff!
Watch this video of the modern 'boat guys',
The SWCCs, as they show how they "Get 'er done!"
---
Dick Strandberg (RS533) is our new Newsletter Editor
Please send stories, events, your thoughts to newsletter@tf116.org.
On behalf on the organization membership, thanks for your effort and contribution Dick!
---
2015 Sea Tigers Reunion
The 158th Army Sea Tigers and individuals from RD-535 and RD-515 combine for a reunion in Virginia. They deeply appreciate SBU-20 (our SWCC brothers) for their support. Click here to see a slideshow of activities.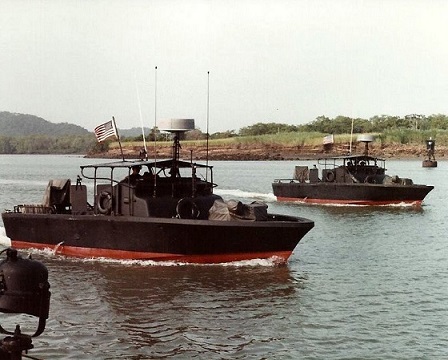 In support of the event the two coordinators Dennis Ambruso and Dave Pizzoferrato brought their PBR's. So, once again a two-boat patrol left the docks. They then proceeded to the Pelican Marina in Elizabeth City in support of the reunion. Charlie stayed low in his bunkers.
---
Scramble the Seawolves
The Vietnam story you haven't heard! The MOST DECORATED SQUADRON in naval history,HA(L)-3 SEAWOLVES ... A film is being made, click here to view the trailer. If the Seawolves ever saved your ass contribute to the effort to produce this film.
---
---
(many thanks to our brothers who shared their photos)
---
------------ Archives ------------
---
---
SWCC/Riverine
Black Beret and their RivRon 1 Beret Flash
Riverine Squadron One after they were outfitted with the Black Beret and their RivRon 1 Beret Flash. They procured the 200+ Black Berets and the Flashes from the Gamewardens Ass'n Ship's Store.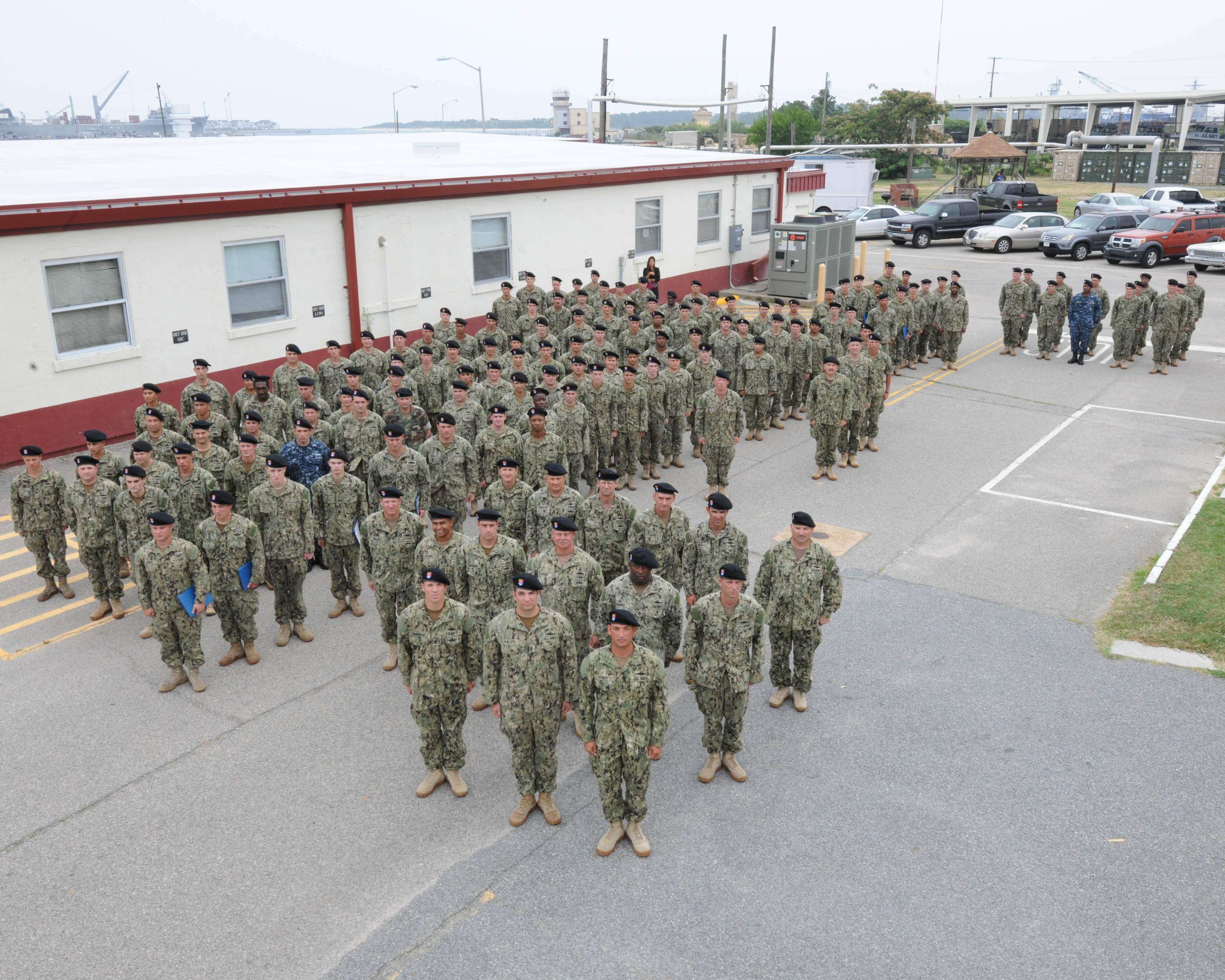 ---
Binh Thuy TF116 Memorial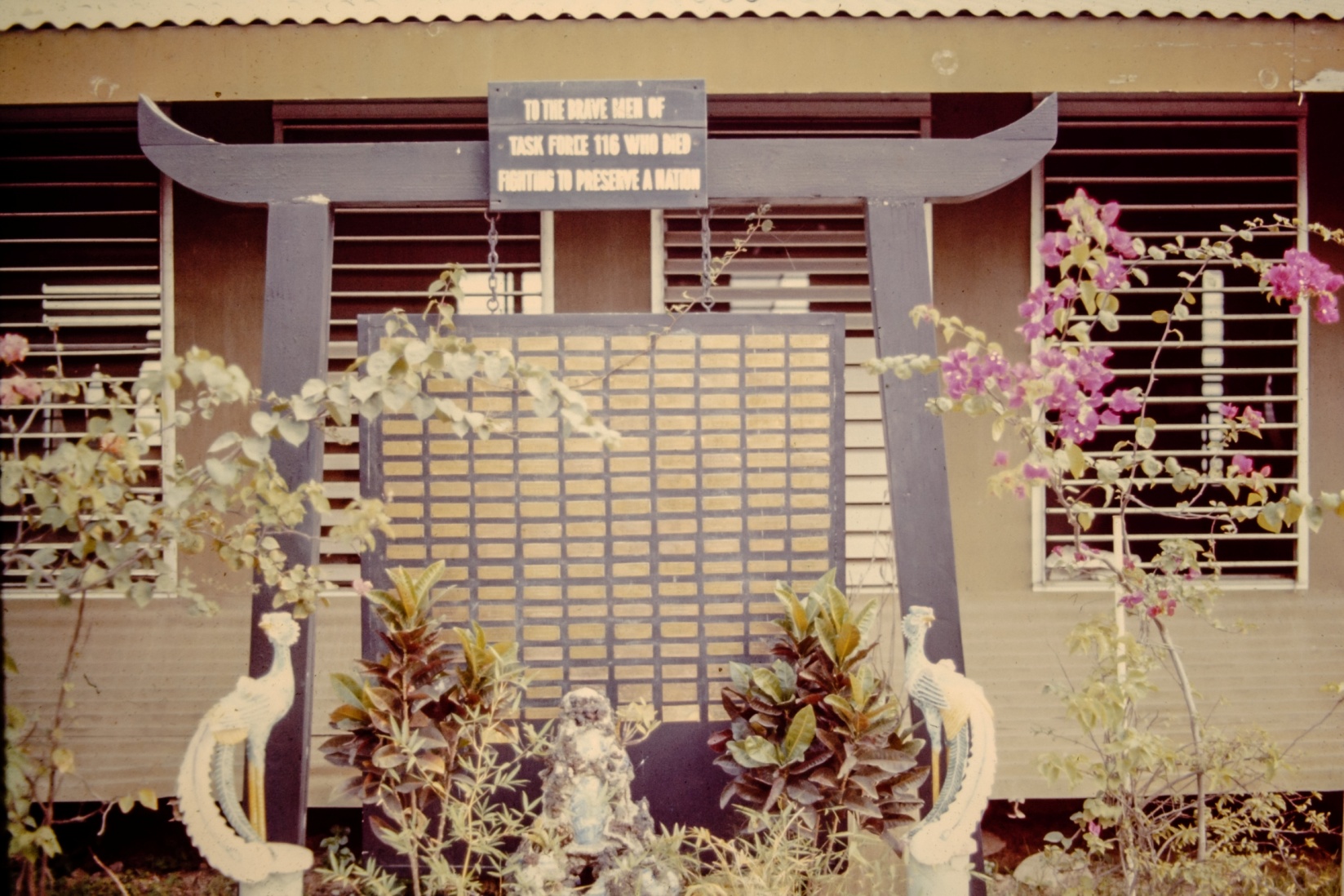 ---
ALL Navy vessels in Viet Nam
This list identifies ships and boats involved in the inland waterways of Vietnam. Quite extensive and in many cases explains the ships reasons for being there.
---
WARBOATS Article About ART NORDVEDT and The PBR
Great article about the origin of the Patrol Boat River (PBR) and it's builder.
---
THE Wall
---
VIET NAM Reference Guide
Comprehensive Vietnam Reference Guide »
Best search list ever compiled about Vietnam
---
Improvised Explosive Devices
IED's - HERE'S HOW THEY DO IT! This is a video of a suicide VBIED (Vehicle Borne Improvised Explosion Device). The explosions are definitely not like the movies. We were actually out on patrol that day and heard the blast from about 7 miles away. Watch the slow moving dump truck moving toward you in the left lane. You'll see some Iraqi Army humvees pull up behind it before it blows. No Americans hurt that day. View the video »
---
USS Harnett County Presidential Unit Citation
Read the narrative copy from All Hands magazine [June 1970] about the USS Harnett County during Operation Giant Slingshot and view a copy of the Presidential Unit Citation »
---
DD214's
It's Official!! DD-214's are now online through the National Personnel Records Center (NPRC).
---
Brown Water Vets Help Out
Viet Nam vets' experience on boats utilized in Iraq — 7/9/2006
By Tom Vanden Brook, USA TODAY. Read the full article.
---
VietNam Era Music
Enjoy hundreds of clips of Vietnam-era music »
---
COMNAVFORV Monthly Summaries
Commander Naval Forces Vietnam (COMNAVFORV) Monthly Summaries »
---
River Assault Group Message Board
Brown Water Navy And Delta Army Vietnam Veterans Message Board »
---
Norfolk Re-dedication of the Gamewardens Memorial

Herb Stephan's dedication speech - from the ceremony at the Naval Amphibious Base Special Warfare Compound at Little Creek, VA, July 18, 2003..
---
Books and Articles
Gamewardens' Authors Corner
We've got some talented folks among us – please take a moment to peruse our library below: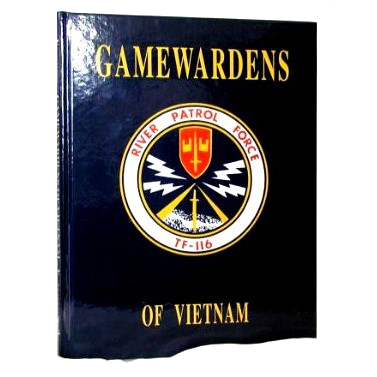 Gamewardens of Vietnam History Book, Second Edition.
by Gamewardens Sailors - Hardback, an in-depth overview of the history of the Gamewardens, complete with photos. A must-read for Brown-Water sailors!
Available in the Ships Store »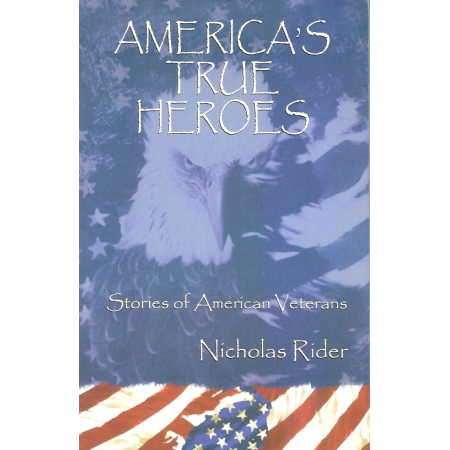 America's True Heroes
by Nicholas Rider In America's True Heroes (Island Time Publishing, 2006) you will be introduced to Army, Navy, Air Force, Marine, Coast Guard, and Merchant Marine veterans who served in peacetime and during conflicts; from WWI to present-day Iraq. You will be inspired by their bravery, commitment to duty, and love for their country. 50+ photos. Read More Here »
Available in the Ships Store »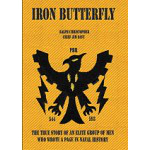 IRON BUTTERFLY
by Ralph Christopher and Jim Davy. The true story of an elite group of men who wrote a page in Naval history. They patrolled the waterways in thirty-one foot river patrol boats powered by Detroit diesel engines with water jet-propulsion. Armed with machineguns and grenade launchers, as well as sheer guts and determination, these sailors faced danger around every bend in the river.
Available in the Ships Store »

NILO HA TIEN
Vietnam War In the early months of 1970, LT Thomas Medici, NILO Ha Tien, enters Cambodia on U.S. Naval Intelligence missions and negotiates a secret weapons agreement with the Cambodian Navy, then thwarts the destruction of the Port of Sihanoukville-- for which he is tried at a Naval Board of Inquiry. "This remarkable novel relates many events that our Naval Intelligence Liaison Officers actually experienced during the Cambodia episode of the Vietnam War...
Available in the Ships Store »


Firefight on Vietnam Brown Water
by Lynn Salsi
Eighteen year old Al Lupo is suddenly faced with the biggest decision of his life after he is drafted to serve in the United States military in 1965. This novel is a coming-of-age saga of Al dealing with his relationship with his father, dealing with the authority of officers, and learning to survive.
Available in the Ships Store »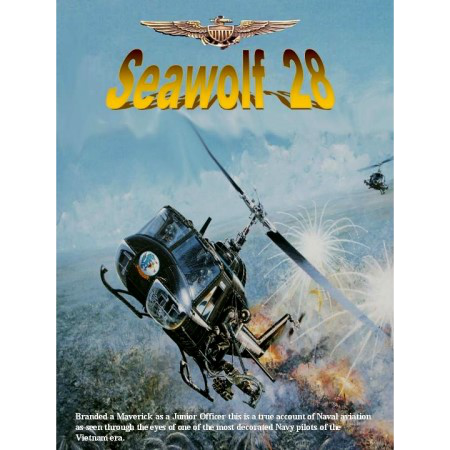 Seawolf28
Al (A.J.) Billings
An exciting action filled novel of one of the top decorated naval aviators of the Vietnam era brings the reader a dramatic story of a twenty-two year career of a Navy helicopter pilot. By the end of the Vietnam War he was a four tour veteran with well over 600 missions and the recipient of more than thirty-nine citations, including the Silver Star and Distinguished Flying Cross.
Available in the Ships Store »

The Man I Didn't Know

by Marie LeDuc and Dr. Art Schmitt
The stories of Families of Veterans who are effected with post tramatic stress disorder.
Available in the Ships Store »
NEW! Listen to an interview with author Art Schmitt on the Denny Griffin Radio Show MEET THE AUTHOR.
Available in the Ships Store »


A Quiet Reality .
by Emilio Marrero, Jr - A heartwarming and hopeful story that invites you to join Chaplain Marrero in this exciting journey through Iraq as he ministered to U.S. Marines. Join him through an exhilarating tactical convoy during his first night in Iraq, through the painful ministry to the wounded and dead. Reflect with him as he ponders on this quest as a man in uniform and a pastor. Walk with him through the ancient ruins of Nebuchadnezzar's Palace in Babil and join him on an exciting quest to open biblical history to his Marines while he seeks to care for the Iraqis around him. More »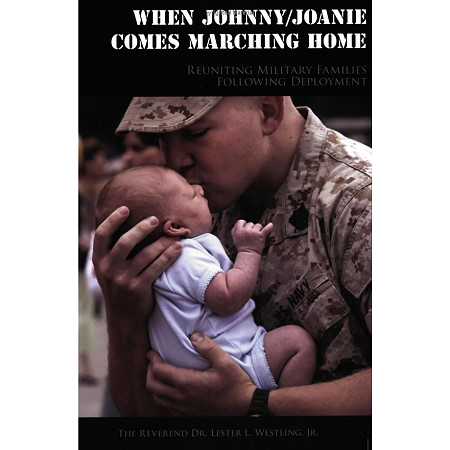 When Johnny/Joanie Comes Marching Home
by Dr. Lester L. Westling - Our military families endure the burdens of separation when a significant member is repeatedly, often suddenly, called far away to serve for extended periods of time. Not only handling the separations but also the reunions and restoration of the family circle are the subjects of this book.
Available in the Ships Store »

All That Glitters
by Lester Westling - Join respected pastor, missionary, and former Navy Chaplain Lester Westling as he chronicles his journey through danger, toil, and triumph and discovers the true meaning of treasure that lasts. His riveting stores will capture your imagination and inspire you to reach for the true gold of life?gold that will glitter forever in Heaven.
Available in the Ships Store »

River Rats
by Ralph Christopher - River Rats provides a ...lively insight into the hows and whys of the United States involvement in Vietnam, and the attempt of that involvement to bring freedom to those who were unable to achieve it by their own efforts...
Available in the Ships Store »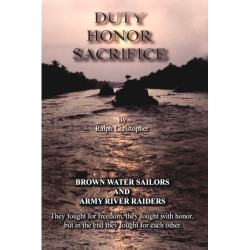 DUTY HONOR SACRIFICE
by Ralph Christopher - From author From the Author: DUTY HONOR SACRIFICE, is 432 pages, 30 chapters with maps and pictures. It is divided up with TF-115, -116, and -117 and 9th Infantry stories all told together. It was another honor to have been trusted by so many to tell portions of their stories.

Listen to a radio interview of the author on "Meet The Author" »
Available in the Ships Store »

Riverine Photo Album
by Ralph Christopher - The Riverine Photo Album is a tribute to those forces that served in the river coastal war of South Vietnam, which was made up of small units of sailors that manned forward firebases, floating detachments, and rode small fast patrol boats and the larger heavy riverine craft alongside South Vietnamese troops, mercenaries, and regional forces, who were fighting for their independence from communist rule. The River Rats and River Raiders fought for freedom and they fought with honor, but in the end they fought for each other. Praise is hardly enough.
Available in the Ships Store »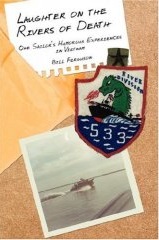 Laughter on the Rivers of Death: One Sailor's Humorous Experience
by Bill Ferguson - Volunteering for anything while serving in the Navy is risky business. Many a naive Sailor found himself suffering from "volunteers remorse" shortly after stepping forward to answer the call for a special assignment. Before he could hum the first few notes of Anchors Aweigh, he would come to believe that what he had asked for and what he had received may not be the same...
Available in the Ships Store »
Listen to a radio interview of the author on "Meet The Author" »

RIVER PARTROL FORCE/ RIVER PATROL FLOTILLA FIVE (TF-116)Operation Game Warden - by Tom Glickman .

A Day In The Life Of The Brown Water Navy.
by LTJG John. F. McGuire – A rare book by LTJG McGuire that outlines an "average" day on The Mekong Delta in a stunning pictorial fashion.
---
Feedback
Feedback — This is your site, so please let us know your thoughts by contacting the The Webmaster.