This is a direct reproduction of the original content of ALL HANDS magazine.
©All Hands Magazine, Inc. All rights reserved. Reproduction by permission only.
Navigate through the "pages" by clicking on the page numbers, next or back links at the bottom of your screen or by clicking the links in the Table of Contents.
Seeing the Sights in Thailand
The Commander of the Seventh Fleet made a protocol visit to Thailand. This involved a port call to Bangkok for the admiral's temporary flagship, the guided missile destroyer USS Buchanan (DDG 14).
The moral: It is good to serve aboard a COMSEVENTHFLEET flagship.
Full day tours of the city were arranged for the 350 Buchanan Navymen. Bangkok has long been a tourist attraction. Among other sights, a visitor can find no less than 300 temples within the city, including the Wat trimitr with its five-and-one-half-ton solid gold Buddha.
Bangkok was once called the Venice of the East, but most of the klongs (canals, to Westerners) which once served as city streets have been filled to make room for modern highways. Some remain, however, and the guided tours took Buchanan Navymen to visit a floating market via water taxi.
The more ambitious Navy tourists climbed the steep steps of the Temple of the Dawn for a view of Bangkok's skyline along the Cao Phya River. Further upriver were the royal state barges, a small fleet of elaborately carved and decorated wooden boats, once used by Siamese kings for visits to the country areas.
Another popular sight was the Grand Palace and the adjoining Temple of the Emerald Buddha. The temple contains intricate examples of ancient Thai, Laotian and Cambodian architecture.
Visits to the market places were also popular.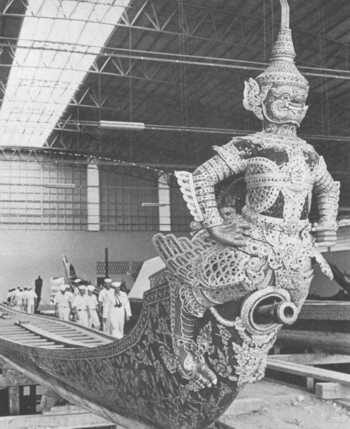 Touring Navymen view royal barges.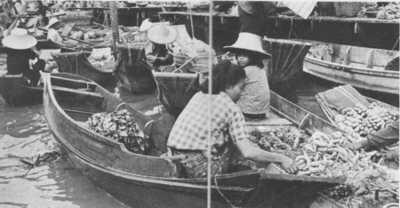 Floating market outside Bangkok has produce brought in from jungle farms.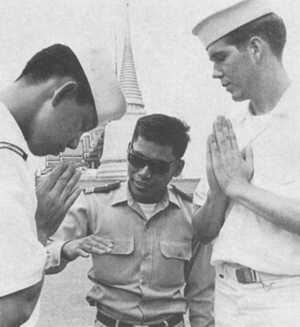 Royal Thai Navy chief teaches Buchanan sailors Thai formal greeting.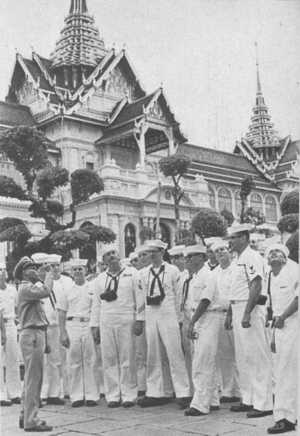 Unusual architecture is explained by guide.
Page 27