This is a direct reproduction of the original content of ALL HANDS magazine.
©All Hands Magazine, Inc. All rights reserved. Reproduction by permission only.
Navigate through the "pages" by clicking on the page numbers, next or back links at the bottom of your screen or by clicking the links in the Table of Contents.

Rating Control Roundup
This school provides an excellent theoretical and practical background in the operation and maintenance of fossil-fueled steam generating plants, with emphasis on the 1200-psi design.
If you show aptitude in the Class "B" school, you may be selected for seven weeks' advanced TRAINing in automatic combustion control devices, or six weeks in pressure-fired boilers, or both, depending upon current requirements.
At the present time, students are ordered to the Class "B' school on a temporary-instruction basis, which means that you will be reimbursed for only one move for your dependents and household goods.
If you are rotating from shore to sea, or are completing an enlistment, you are urged to apply for this schooling. If you don't fall into either of these categories, you will have to take your chances on acceptance.
Sea/Shore Rotations of BTCSs, MMCSs and SPCMs-Based upon the current distribution of billets between the sea and shore categories, it was anticipated that BTCSs and SPCMs would serve 48 months in assignments designated as sea duty and 24 months in assignments designated as shore duty.
The establishment of the 48-month sea tour was based on the 24-month shore tour. However, a large proportion of the shore tour billets are for 36 months, which means longer sea tours and a narrower choice of assignments for men now at sea.
However, the future looks brighter due to the possibility of more shore billets and the readjustment of some shore tours that are longer than 24 months.
Assignment of E-8 and E-9 BTs, MMs, BRs and SPCMs is done by SPCM R. E. Hanson. Phone area code 202, OX 4-4785.
Detailing of senior and master chief petty officers for duty in submarines and nuclear power surface ships requiring a nuclear NEC is controlled by Submarine and Nuclear Distribution Control (Pers B2115). The phone number is area code 202, OXford 42346 or 42622.
From a review of the individual preference cards which have been submitted recently, it is apparent that few men know of the type of duty assignments available for MMs and BTs at the E-8 and E-9 level.
In an effort to rectify this situation, the assignment people have gone to considerable pains to compile the list published below which will provide senior SPs, BTs and MMs with information concerning the location and nature of opportunities ashore and at sea.
They ask-again-that the duty choices on your preference card be made as wide as possible in order to provide reasonable alternatives to your detailer. Changes in your duty preference should be made on a new duty preference card and submitted as soon as possible. Be sure to include your chronological history of duty assignments for the past 10 years.
Requests for split sea tours will be sympathetically considered. Early notification of your intention to request transfer to the Fleet Reserve will also be appreciated by BuPers.
Here's the list of current assignments for SPCMs, MMCSs and BTCSs.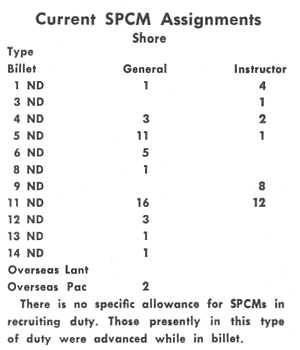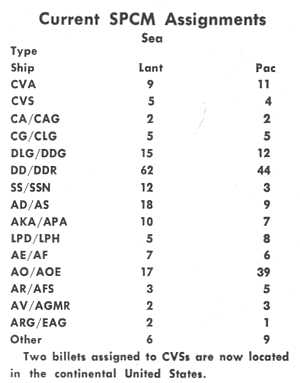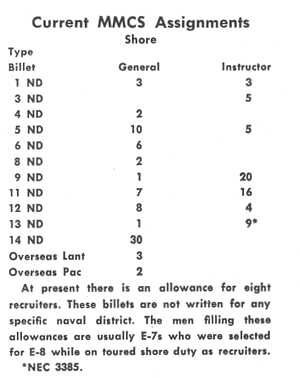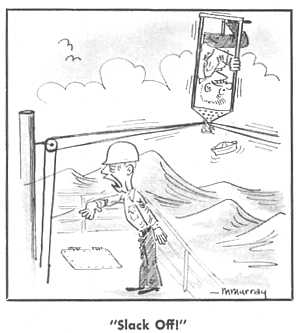 Page 47