This is a direct reproduction of the original content of ALL HANDS magazine.
©All Hands Magazine, Inc. All rights reserved. Reproduction by permission only.
Navigate through the "pages" by clicking on the page numbers, next or back links at the bottom of your screen or by clicking the links in the Table of Contents.
THE WORD
Frank, Authentic Career Information
Of Special Interest-Straight from Headquarters
LEADERSHIP EXAMS-Come next August, you'll be required to have passed a special military/leadership examination before becoming eligible to advance to grade E-4 and E-5.
As outlined in BuPers Notice 1418 of 25 Aug 1966, everyone desiring to participate in the Navy-wide examinations for advancement to pay grades E-4 and E-5 must previously have passed a separate military/ leadership exam.
You may take the leadership exam for the next higher pay grade without regard to time in pay grade, and you only have to pass it once for each pay grade.
The leadership exams will be given quarterly, beginning in January 1967 for active duty personnel, and July 1967 for inactive Reservists.
If you are authorized automatic advancement without examination (STAR, SCORE, BuPers Inst 1430-14 series), you still have to pass the military/leadership exam before you may be advanced.
Personnel in pay grade E-2 also may take the military/leadership exam, even though they are not yet eligible to take the professional examination for advancement to E-4.
If for any reason you are not eligible to take the professional advancement exam, you still should make an effort to take the leadership exam as soon as possible. It will help give you an insight of the military position, and at the same time you'll be hurdling one exam and can concentrate during later study for the professional exam.
The requirement for the leadership exam does not begin until the August advancement exams, but those personnel taking the February advancement exams are urged to take the leadership exam anyway, even though it's not yet required.
Here is the schedule for administration of the military/leadership exams:
Active duty personnel (Exams commence in January 1967)
Personnel in pay grades E-2 and E-3 may take the E-4 exam on the second Tuesday in January, and the first Tuesday in April, July and October.
Those in pay grades E-4 may take the E-5 exam on the second Thursday in January, and the first I day in April, July and October.
Inactive duty Reservists (Exams commence in July 1967)
For pay grades E-2, E-3, and E-4, the exam will be given on the first scheduled TRAINing period in Jannary, April, July and October.
The regular advancement exams will contain 150 questions, all dealing with the professional aspects of your individual rating.
AIR FARES-The airline industry has made several changes in the regulations governing military standby fares, giving special consideration to servicemen traveling at reduced rates.
The new rules regarding reduced fares, which vary with different air lines, will take many traveling Navymen out of the "standby" category and put them in the "confirmed reservations" set.
For example, many of the airlines are permitting military personnel in an emergency leave status to have confirmed reservations, even though paying the standby fare. In such cases, a document from the commanding officer or from the American Red Cross will confirm that the authorized leave is an emergency.
Other airlines have a "furlough fare" which provides for the serviceman to pay a slightly higher percentage of the regular fare (ranging from 60 per cent to 66 2/3 per cent) in order to guarantee him confirmed reservations.
See BuPers Notice 4632 of 22 Aug 1966, or your transportation officer, for more details.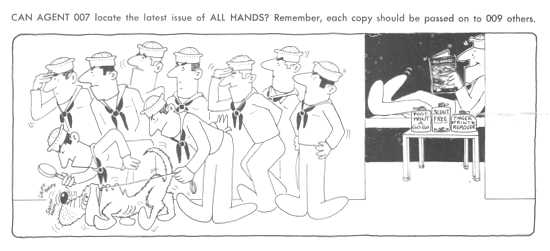 Meatballs Are Flying;
'E' Awards Announced
ONCE AGAIN newly earned meatball pennants flap at the foretrucks of the Fleet's best ships. The fiscal year 1966 Battle Efficiency "E" competition is complete, and the winners have been announced. As you're certain to notice, several competitive groups are not included. The naval air forces of both Fleets are now on a separate competitive cycle, and winners will not be announced until early 1967.
In some instances, the tempo of operations prevented participation. MinPac's second, fifth and sixth groups, for instance, did not compete. They had other jobs to do.
Below is a partial listing of this year's battle "E" winners. ALL HANDS will print the names of others when the announcements are received from type commanders or the ships concerned.
Cruiser Destroyer Force, Atlantic:
Wallace L. Lind (DD 703)
Johnston (DD 821)
Semmes (DDG 18)
Goodrich (DDR 831)
Lloyd Thomas (DD 764)
Davis (DD 937)
Noa (DD 841)
Harwood (DD 861)
Sampson (DDG 10)
Newman K. Perry (DD 883)
DuPont (DD 941)
Samuel B. Roberts (DD 823)
Yarnell (DD 541)
Holder (OD 819)
Waller (DD 466)
Van Voorhis (DE 1028)
Glennon (DD 840)
Grand Canyon (AD 28)
Yosemite (AD 19)
Cruiser Destroyer Force, Pacific
Oklahoma City (CLG 5)
Piedmont (AD 17)
Frontier (AD 25)
John R. Craig (DD 885)
Reeves (DLG 24)
Waddell (DDG 21)
Gridley (DLG 21)
John W. Thomason (DD 760)
Alfred A. Cunningham (DD 752)
McMorris (DE 1036)
Mine Force, Atlantic
Meadowlark (MSC 196)
Skill (MSO 471)
Jacana (MSC 193)
Direct (MSO 430)
Adroit (MSO 509)
Vital (MSO 474)
Fidelity (MSO 443)
Pandemus (ARL 18)
Mine Force, Pacific
Whippoorwill (MSC 207)
Gallant (MSO 489)
Persistent (MSO 491)
Submarine Force, Atlantic
Corporal (SS 346)
Piper (55 409)
Thornback (55 418)
trigger (55 564)
Sea Leopard (55 483)
Scorpion (SSN 589)
Sealion (APSS 315)
Blenny (55 324)
Sea Robin (55 407)
Halfbeak (55 352)
Grenadier (55 525)
See Poacher (55 406)
Marlin (SST 2)
Duce (SSN 607)
Howard W. Gilmore (AS 16)
tringa (ARS 76)
Submarine Force, Pacific
Seadragon (SSN 584)
Sabolo (SS 302)
Bonefish (SS 582)
Snook (SSN 592)
Son Fox (SS 402)
Caiman (SS 323)
Spinax (SS 489)
Pomodon (SS 486)
Sculpin (SSN 590)
Plunger (SSN 595)
Greenish (SS 351)
Chanticleer (ASR 7)
Amphibious Force, Atlantic
Guam (LPH 9)
Telfair (APA 210)
Sandoval (APA 194)
York County (LST 7175)
Rankin (AKA 103)
Guadalcanal (LPH 7)
Talbot County (LST 1153)
LCU 1612
LCU 1492
Amphibious Force, Pacific
Kemper County (LST 854)
Henry County (LST 824)
Westchester County (LST 1167)
Eldorado (AGC 11)
Valley Forge (LPH 8)
Bayfield (APA 33)
Service Force, Atlantic
Alstede (AF 48)
Nantahala (AO 60)
Chewaucan (AOG 50)
Arcturus (AF 52)
truckee (AO 147)-eighth consecutive award
Kaskaskia (AO 27)
Tutuila (ARG 4)
Escape (ARS 6)
Paiute (ATF 159)
Papago (ATF 160)
San Pablo (AGS 30)
Tanner (AGS 15)
Georgetown (AGtr 2)
Alcor (AK 259)
Mobile Construction Battalion One
Latest PGM
The patrol motor gunboat USS Asheville (PGM 84), newest member of the Navy's small craft Fleet, was commissioned in early August, at Tacoma, Wash.
Asheville, which was authorized in the fiscal year 1963 shipbuilding and conversion program, is constructed of aluminum. She has an over-all length of approximately 165 feet, a beam of 24 feet, and a full-load displacement of 240 tons.
Asheville's armament will include one 3-inch/50 caliber mount, one 40-mm gun, and two 50-caliber machine guns. She is powered by a combination gas turbine and diesel engine propulsion plant.
The keel of Asheville was laid on 15 Apr 1964, and she was launched on 1 May 1965.
Page 44