This is a direct reproduction of the original content of ALL HANDS magazine.
©All Hands Magazine, Inc. All rights reserved. Reproduction by permission only.
Navigate through the "pages" by clicking on the page numbers, next or back links at the bottom of your screen or by clicking the links in the Table of Contents.
Manhattan in Miniature
IT IS FOUR in the morning. The Navy tugboat, USS Manhattan (YTB 779), steams slowly out into the South China Sea from the port of Da Nang. Her destination is Chu Lai, to return with a berthing ship (APL 5) in tow later that afternoon.
The berthing ship is needed in Da Nang to house the many personnel reporting for duty at the U. S. Naval Support Activity, Da Nang. Manhattan will bring her back.
Manhattan, commissioned in February 1966, is of the newest type tug in the U. S. Navy. She packs a lot of power. Guiding an aircraft carrier into a harbor used to take six small tugs. Now two tugs like YTB 779 can bring one in without any trouble. These tugs have a crew of 14 men who eat and sleep aboard.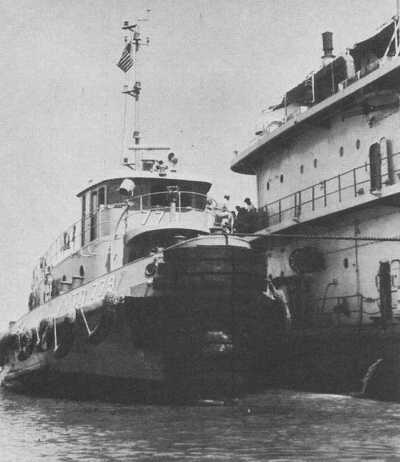 DA NANG TUG - USS Manhattan (YTB 779) pulls APL from the mud. Below:
The latest in Navy tugs heads for a job.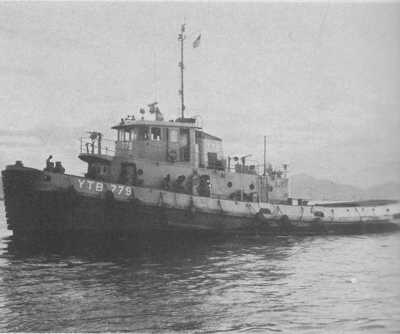 On the way to Chu Lai, Manhattan meets a Swift boat which swings alongside to inform the tugmaster, Chief Boatswain's Mate Charles Geber, that all is clear.
Upon arriving at Chu Lai, the tug waits while pusher boats guide an LST through the current. A pilot is sent to the tug to guide the boat around the sandbars and through the narrow opening of the Giang river.
As the tug pulls up beside the APL 5, the crew man their stations and waste no time in securing the two together, showing the teamwork they have developed during the months aboard Manhattan. Under the direction of Chief Geber the tug frees the APL from the mud, and with the help of pusher boats nudges her safely outside the harbor.
The chief then positions the tug near the bow of her charge while the tugmen tie a line to the bow. As Manhattan moves out in front, the men pay out the line. When the berthing ship is about 500 feet behind the tug, the line is made secure.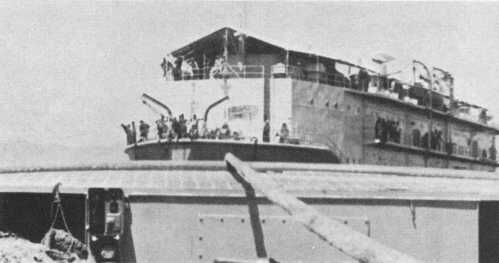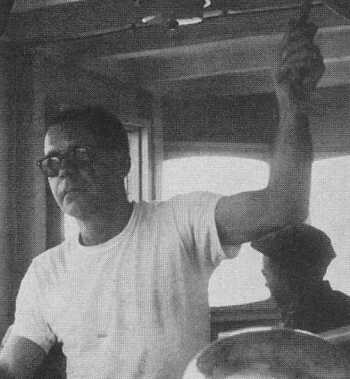 Upon reaching the mouth of Da Nang port, a radio call is made for a pusher boat to help the tug guide the APL through the ships in the harbor to its anchorage.
With final maneuvering done, the tugboat YTB 779 quickly unhitches and steams down the Da Nang river to another job.
-Story and photos by George L. Eldridge, YN3(JO), USN
Page 8