This is a direct reproduction of the original content of ALL HANDS magazine.
&copyAll Hands Magazine, Inc. All rights reserved. Reproduction by permission only.
Navigate through the "pages" by clicking on the page numbers, next or back links at the bottom of your screen or by clicking the links in the Table of Contents.
Golf and Gun Dominate Sport Round Up
DEFENDlNG All-Navy Golf champion Dave Bollman slipped to a 75 in the final round of this year's tournament, but still managed to stay one-under-par for the 72 holes for a one-stroke victory over Stu Schroeder in the open division.

Bollman fashioned rounds of 69, 71, 72 and 75 for his 287 total over the par 72 NAS Patuxent River course.

Schroeder, who was also last year's runner-up, shared medalist honors with Bollman as five players shot par or better on the first day.

Andy Mosley, a veteran of previous All-Navy tourneys scored a first round 70, but dropped to a 78 on the second day and was never again in contention for the crown despite the fact that his final 71 was the only sub-par round scored that day.

Rudy Boyd, who was six strokes off the pace after 36 holes, shot a three-under 69 in the third round as he made a pitch for a vantage point to the title. His subpar shooting put him at one-under-par 215, three strokes off the pace.

Schroeder missed par by a stroke on the second day and by two more on the third, as he dropped steadily to third place. At the end of 54 holes of play, he was four strokes off the pace at even par.

On the final day, Bollman gave everyone a chance to catch up, as he went three over par to a 75. Schroeder came charging in Arnold Palmer style, but the charge faltered at even par and he lost by a stroke.

Boyd, who needed only an even par round to tie for the title and force a playoff, skied to a 77 under the pressure. He finished third, four strokes over par and Schroeder.

In the senior division, defending champion Ed Peck and Hugh Baskette, a former Bollman teammate, shared medalist honors at even par 72. But that was as close as they got to the title, as Captain Ace Johnson poured in rounds of 73, 74, 76 and 76 to beat Peck by two strokes and Baskette by seven.

Johnson led after two rounds with a 147. Ed Bray moved into the second slot at 150.

Peck and Baskette, playing like twins, came in with second-round 79s, which put them in a three-way tie for third with Captain Tex Ireland at 151.

Then Peck made an early surge in the third round for a par 72 as Johnson slipped to a 76, putting the two in a tie for the lead at the end of 54 holes of play. Bray held a steady grip on second place at 227, four strokes away from the leaders.

In the final round, Ace Johnson showed that his golf was as appropriate to the number one spot as his name. He turned in another steady 76 to take the title, as Peck shot a 78, good for second place.

Baskette, who had hovered at 79 for two days, moved past Bray and into third place with a 76, for a 306 total.

The win was Johnson's first in several tries for the senior title. It was also a moral victory for Johnson, whom Peck had defeated by 18 strokes in the East Coast senior championship.

Peck's second place finish was his third in four years. He also placed second in 1963 and 1964, in addition to his 1965 win.

The women's division improved on last year's winning score by over 30 strokes, as LCDR N. G. Hollenbeck jumped to an early seven stroke lead and was never in trouble on her way to the title.

Miss Hollenbeck toured the course in three-over-par 75 in the first round, the lowest women's score of the tournament.

Subsequent rounds of 83, 81 and 85 gave her a 324 total and a two-stroke victory over runner-up M. A, Hall.

Miss Hall, who began the tournament with a respectable 82, picked up four strokes on the leader with a second round of 79 and another stroke in the final round, but couldn't overcome her deficit from the first day's play.

Defending champion Estelle St. Clair was 24 strokes better than her title pace of a year ago, but her 333 total was only good for third place.

In this year's competition, seven of the 10 women entrants beat last year's winning score of 357.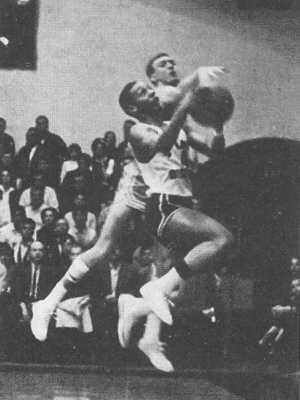 HERE AND THERE - Netmen are at it again.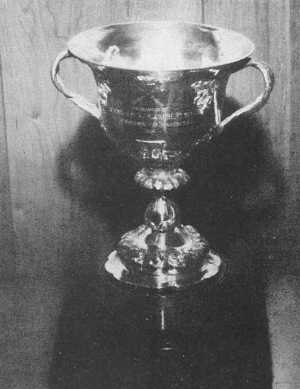 Read Cup is sailing trophy. Below: Professional tennis on carrier. MATCH was held off California coast.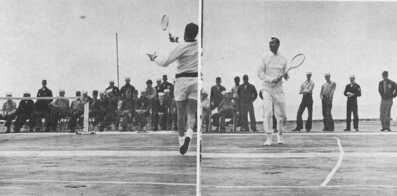 Page 35